Home

>

'Symbolic Modelling: Getting to the Heart of the Client's...
'Symbolic Modelling: Getting to the Heart of the Client's Experience' with Rupert Meese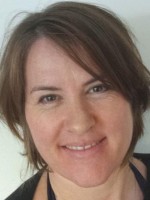 Phone:
07504 196 732 If I am unable to answer, please leave a message with your name and number and I will call you back as soon as I am able.
Location:
Burley House
Rowditch Place
off Uttoxeter New Rd
Derby
Derbyshire
DE22 3LR
Email organiser
Symbolic Modelling is a therapeutic approach which takes the unique structure of a client's world with its heroes and demons, castles and monsters, as the model by which the therapist and client communicate. In Symbolic Modelling, sometimes known as metaphor therapy or Clean Language, the client and facilitator navigate together through an ever enriching landscape to discover new information, resources and solutions. Typically, the client discovers a lasting resolution to their issue that neither they nor the facilitator could have envisaged at the outset. The talk will include a demonstration and techniques that you can use to gracefully deepen your connection with others.
Rupert has run a private practice in Symbolic Modelling for a number of years, working with individuals and business clients as well as with academic researchers and marketing consultants. He regularly contributes as a guest trainer with the Clean Language Company and has presented new research at both the NLP and Clean Language conferences.
Tuesday 7th May 2013, 7pm – 9pm
£8 booked in advance @ www.derbytalks.weebly.com 
Further concessions and discounts available
Derby Talks is hosted by Natasha Sephton
For more information about Derby Talks! please call on 07504 196 732 or email natasha@creativeartstherapy.co.uk