Home

>

Support group for sufferers of low self-esteem and...
Support group for sufferers of low self-esteem and confidence
Cost:
Depends on how many people attend, the more the cheaper it gets. Max £10 for 1 hour session.
Location:
The March Wood
Great Chart
Near Ashford
Kent
TN26 1EP
Email organiser
This is an opportunity for personal growth in a safe environment, with peers who will support and empathise with the journey you are on.
The sessions will be run around an open fire in a woodland setting, which will help give you a natural feeling of well-being. From this, the group will grow into a support network of people who have an understanding of what each is going through.
The benefits of support groups are:
A belief that you are not alone.
Gain an understanding of why your confidence is low.
You will not be judged.
You will be listened to.
Learn to understand your emotions, and then take control of them.
It is a safe place to allow yourself to be vulnerable.
These are just a few of the benefits you may see when taking the decision to change your life, and all the time being supported by myself.
The programmes will be run from a woodland in Great Chart, Kent, and will be facilitated by an experienced therapist.
Go for it now. The future is promised to no one - Wayne Dyer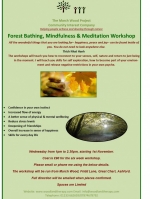 About Mark Wood
My name is Mark and below is a brief outline as to why I feel this type of group is important.

Taking therapy outdoors has a huge impact on the physical and mental wellbeing of my clients, and teaches them the tools they need to live the life they want. The group and I will help anyone who attends fulfil their potential, and take control of life.