Home

>

Support group for overweight men
Support group for overweight men
Cost:
£10 to £15 per head, depending on numbers
Location:
March Wood
Bethersden Road
Ashford
TN23 1PE
Email organiser
For too long overweight men have been looked at and the belief is that they are OK with being overweight, and the male ego just re-enforces that as it is seen as weak for a man to admit he struggles with weight.
If you are prepared to put aside society and male ego then this group could have a huge impact on your life, as it everyone will have or will be experiencing the same thing.
This group is for men who are struggling to understand why they can not lose weight, it is not a weight loss group. I will not be bringing scales or logging how much weight your losing, this is about getting to the emotional reason why you eat.
Once I have got between six and 10 men, the group will start, so contact me to put your name on the waiting list. The group will be held in the woods sat around an open fire, and depending on the numbers will be weekly for an hour and a half each time.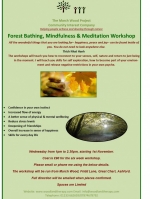 About Mark Wood
I have been supporting adolescents and adults for 15 years, helping people fulfil their own potential through personal insight. As a man who has struggled with weight, and the negative thoughts that got through your head. I am now in a position where my training and life experience can help men move forward. This is about empowering men to change.