>

Mothers bereavement group
Mothers bereavement group
The Horsforth Centre, 138 Low Lane, Horsforth, Leeds, West Yorkshire, LS18 5PX
Mothers bereavement group - Tuesday evenings
Lucie Stephenson specialises in working with women who have lost a baby either through miscarriage, stillbirth or neonatal death. She believes that this kind of bereavement is unique and therefore requires specialised therapy, rather than the approach of more conventional bereavement therapy.
She is currently running a mothers bereavement group which meets on Tuesday evenings at The Horsforth Centre, Leeds. The group is for women in this situation who would like some help or support.
The group looks at the needs of individuals, such as how the loss has impacted the person's relationships, as well as issues such as deciding whether or not to have more children. We also look at how to identify mental health issues such as anxiety and depression, and explore ways of working with this.
If you would like some more information on the mothers bereavement group, please contact Lucie on 07881365313 or email her on lucie.stephenson@thehorsforthcentre.co.uk
Please also check out Lucie's profile on our website www.thehorsforthcentre.co.uk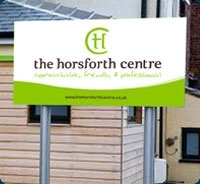 Hosted by

The Horsforth Centre For Counselling, Coaching, CBT & Psychotherapy