>

Marketing for your private practice for counsellors and...
Marketing for your private practice for counsellors and therapists
13th September 2020, 10am - 2pm
A small online workshop (so lots of opportunities to ask questions, explore and get from the session what you need) for counsellors and therapists. How to build and grow your private practice, ethically, without spending hours and hours doing it or breaking the bank! Take a look at the website for feedback from other counsellors on the workshops.
Would you like more clients?
"Andrew is clearly very knowledgeable in the subject of marketing your own private practice and it shows in how successful his own practice is."
"I found this workshop gave me lots of tips and cost-free ways I could immediately put into action to promote and advertise my own private practice. I would highly recommend - lots of value in attending!" (J, Counsellor, Nottingham 2018)
What will I get out of this workshop?
This small workshop will be a chance to really focus on the best way ethically and effectively to build your private practice using marketing and other helpful, ethically sound ways of reaching more clients. Andrew's background in marketing and now running a successful private practice places him in a good position to share sound and meaningful insight into what works, what works well and what might be a waste of your time and money. This workshop will be free of jargon and waffle! Just straight forward, meaningful, workable and sound strategies that you can implement to move your private practice forward.
What will we cover?
How might you be getting in your way?
To niche or not to niche, or why not go the third way?
The good, bad and the not so pretty of advertising.
Mindset.
Blocks to marketing and overcoming them.
Marketing mistakes.
Maximising return on your marketing efforts and spend.
Writing copy that works for directories, websites and other marketing.
Your questions answered.
Online and offline strategies that work.
Blogging, to do or not to do? Time spent wisely?
Social media, not always a wise use of your time (and/or funds).
How to achieve media interest and exposure (if that's your thing!).
What opportunities might you be missing already? What might you be doing that's not working and could be let go of?
Your questions answered.
Reflection, learning and I offer two guarantees:
1. If you don't feel its value, I'll give you your money back.
2. There will be spelling mistakes (I'm dyslexic!).
How to effectively and ethically market your practice (without spending every waking moment doing it). It's not rocket science and can be done without spending all your money...come and find out how.
Why do I offer the Marketing4Private Practice workshops?
I want to share why I am running my Marketing 4 Counsellors (and psychotherapists/therapist) workshops…. and why what I offer is different from some of the other marketing support out there.
Let me first tell you what I do: I run marketing workshops and one2one session for counsellors, psychotherapists, and therapists to help them market and grow their private practice.
The sessions I offer are one-off. Practitioners come along and get what they need there and then. It's not a club to join, ongoing coaching sessions or anything like that. I do feel they have value for those that want that. But the reason I run Marketing4Private Practice workshops is that I wanted to offer something else, something less involved, less expensive, less time consuming and I feel, more attainable and doable for most. I also genuinely believe for most, what I offer is enough.
I get wonderful positive feedback from the sessions with people being able to take away what they learn and implement it immediately resulting in more clients.
My background is in marketing, promotions and running businesses, so this has been extremely helpful in building my private practice, from start-up to consistently full in less than six months. I get disappointed when I see practitioners struggling or buying the discourse that work isn't out there or that they have to volunteer forever or even worse that they need to spend loads of money or all their time marketing. I feel, for counsellors, marketing is not rocket science and is very doable.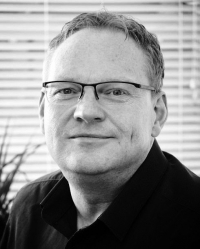 The event is hosted by Andrew Harvey (MBACP) counsellor and therapist. Andrew runs a successful private practice, Counselling Services Nottingham and AddictionsCousnelling.net in Nottingham