>

Let's talk about online therapy - online event
Let's talk about online therapy - online event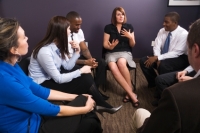 16th October 2020, 7pm - 8.30pm
Qualified Practitioners: £40 Trainees: £30 WPF Therapy Trainees/Staff: £20
About this online event
Why not join us this evening to share our experiences of moving our psychotherapy practice online?  
Although some models of therapy have been offered online for years, for many psychodynamic and psychoanalytic therapists it's new.  
Are you scanning the literature for help? This is an opportunity to learn, share and explore some of the dilemmas, difficulties, opportunities and surprises around working online for both clinician and patient with fellow psychotherapists and counsellors.
Have you moved your clinical practice online or is your organisation re-shaping itself to deliver therapy differently due to COVID restrictions?
What challenges have you faced?
Would you like to share experiences of providing therapy online with other clinicians?
What issues and dilemmas do working psychodynamically online bring up?
During this workshop, you will be able to hear from colleagues about their experiences working online psychodynamically and share some of your own. How do we work with unconscious processes including interpretation, transference dynamics, fantasy, enactments and containment in the presence of the computer and the physical absence of the body?
Workshop aims
By the end of the workshop, you will have the opportunity to: 
consider issues around working therapeutically online
explore some of the issues, dilemmas and opportunities of providing psychotherapy and counselling online 
share a range of experiences of providing psychotherapy and counselling online
increase your confidence and competence in working without the physical framework of a consulting room 
Outline 
This workshop will begin with a short introduction followed by talks from the two workshop leaders. There will be small group discussions and a full plenary to draw out shared insights and learning from the workshop.  
Speakers
Sarah Jones 
Sarah qualified as a psychodynamic psychotherapist in 2012. Sarah has worked in private practice, as a seminar leader at WPF therapy and workshop facilitator for the University Mentoring Organisation (UMO). She works as a Specialist Mental Health Mentor for UMO, mentoring both in person and online since 2016.  
Cate Lyon 
Cate is a Psychodynamic Psychotherapist trained at WPF Therapy. She is Counselling Lead in NHS Primary Care (IAPT). As part of the Senior Management Team, Cate has recent experience of implementing a rapid reconfiguration of her IAPT Service systems, staff working arrangements and patient communications to provide online and telephone therapy from remote settings in response to COVID-19. She also practices and supervises in Private Practice. She teaches and trains extensively in the field and consults in these roles in a range of public and private organisations. 
Target audience:
This workshop is open to training and qualified counsellors and psychotherapists. Please note that by booking on this workshop you agree to keep all discussion confidential.   
Please check our website for more info.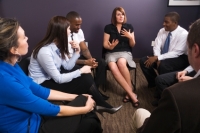 WPF Therapy is a well established and respected therapy training organisation. Throughout the year we provide CPD workshops and lectures to augment the clinical and theoretical learning offered by training organisations. This also offers the opportunity to focus on topics pertinent to the clinical work provided by new and established practitioners.