>

Hopeful online workshop for survivors of sexual abuse and...
Hopeful online workshop for survivors of sexual abuse and their supporters
7th November 2020, 2pm - 5pm
£50 early bird £30/£20 concessions
Workshop: Take back control after sexual abuse: Find power over shame, flashbacks, sex and boundaries.
The workshop is open to all genders and is held in a friendly and relaxed atmosphere with time for sharing and discussion plus extensive handouts. The workshop is also open to mental health professionals who are supporting people who have experienced abuse and to partners or friends of people who have experienced abuse.
We give CPD certificates on request. 
We will cover:
Break out of isolation and meet others in a safe space.
Regain power over shame that does not belong to you.
Increase control over invasive flashbacks.
Take back your sexuality for yourself.
Assert boundaries so they work for you.
Cost: £60 or £50 (Earlybird before 10th October). Concessions £30 or £20. 
Facilitated by professional counsellors and all BACP Ethics apply.
For more information, please email info@intothelight.org.uk.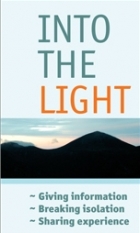 Into The Light is a not for profit project CIC that was founded in 1993 and offers counselling, support and resources to Survivors of sexual abuse and those that support them. We have been running Women's Survivors groups and workshops for over 25 years.