>

Getting the love you want - an Imago couples workshop
Getting the love you want - an Imago couples workshop
2nd - 3rd November 2019, 9.30am - 6pm
7A High Street, Cheadle, Stockport, Greater Manchester, SK8 1AX
Who is this weekend for?
Couples and parents who want:
A stronger, more loving relationship
Improved communication
Increased passion and fun
Skills for long term relationship success.
What will you learn?
New practical skills and new understandings for a long-term relationship
Develop greater compassion for each other
Renew passion, pleasure and fun
Make sense of the impact of your childhood experience on your adult relationship
Learn new communication skills to break destructive patterns of relating
Model a strong, loving relationship for your children.
About the workshop
Come and learn how to enhance safety and connection in your closest relationships. This is a workshop for everyone; just met, married 20 years, struggling with conflict and difference, coping with big life changes, dealing with loss or grief, same sex couples, parenting struggles. Everyone is welcome!
Our workshop is educational and focuses on enhancing connection. Our aim is to equip you with insights, skills and tools and whilst the benefits can be therapeutic, it is important to note this is not therapy. The two days includes lectures, written exercises, demonstrations and practicing of dialogue and communication processes.
We will learn as a group with no pressure to share private information. There is plenty of space for partners to share & practice exercises privately.
Who should come on the 'getting the love you want' workshop?
Couples who want to enrich their relationship
Couples who are beginning a relationship and want to keep it
Couples who are in an unsatisfying relationship and want to resolve long standing difficulties (although you may need follow up counselling after the workshop)
Couples who are near break up or divorce and want to decide if their relationship can be saved.
These are the first 'getting the love you want' workshops regularly running outside of London and as such are likely to be in high demand. Please book early to avoid disappointment.
For more information please visit: http://affinitycentre.co.uk/getting-the-love-you-want-couples-workshop/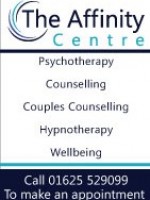 Ian Tomlinson, UKCP registered psychotherapist, advanced certified imago therapist and certified imago workshop presenter and Joanna Groves, psychotherapist and couples counsellor (UKATA).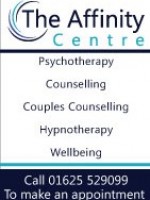 Hosted by

The Affinity Centre