>

Developing embodied resonance: Body in psychotherapy course
Developing embodied resonance: Body in psychotherapy course
14th - 17th July 2021, 10am - 5pm
This four-day short course offers you the chance to gain knowledge of the body's place in psychotherapy and to deepen your embodiment experience in a supportive and nourishing environment.
This will be an in-person experiential space where we will focus on practising skills and personal embodied development work.
*Please note: This course is only open to qualified counsellors and psychotherapists plus Finalist students on the Minster Centre's MA in Integrative Psychotherapy and Counselling.
The course will cover:
Working with breathing: The breath is both voluntary and involuntary. Building an awareness of our own and others' breathing patterns provides us with another way of supporting and working with emotions.
Focusing on embodied resonance and the transference matrix: Through learning to trust what our bodies are telling us (by paying attention to its subtle messages), we will develop an understanding of sensation and feelings. From this awareness, a language of embodiment starts to emerge.
Looking at energetic patterns in the body and how to work with them: Here we will use traditional Body Psychotherapy theories on character and segments to develop our energetic understanding.
Embodied power relations and vulnerabilities as we work: Here we will be focusing on embodied difference and building our capacity to be with the challenging dynamics that emerge when looking at embodiment and how we other.
"The importance of working with our own embodiment is that it gives an integrity to the discipline of psychotherapy, taking seriously the fact that it's an embodied, relating matrix; I am impacted by how I experience you, you are impacted by how you experience me." – Anne Marie Keary
About Anne Marie Keary: A Relational Body Psychotherapist (Chiron Centre for Body Psychotherapy), she has worked at The Minster Centre since 2010. Anne Marie is currently the Tutor for the Body in Psychotherapy module, Head of the Second Year of training and a Finalist Supervisor.
Anne Marie has a special interest in working with issues around disability and childhood sexual abuse and facilitates workshops in these areas. She comes from a teaching background and also works in private practice in Old Street.
About Patricia Grey: An integrative, embodied-relational and ecotherapist (Minster Centre, ERTA, Wild Therapy Ireland), she has taught at the Minster Centre since 2018. Patricia is currently Tutor in the Body in Psychotherapy module, first year ETG Facilitator and teaches the Introduction to Counselling Skills week-long course.
She has a particular interest in working to create greater connection within ourselves, with others and with the natural world, using embodied approaches. Patricia has a private practice in Bethnal Green.
CPD certificates will be provided.
Visit our webiste to book your place.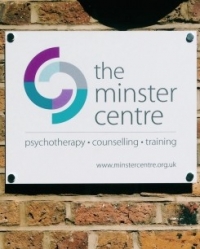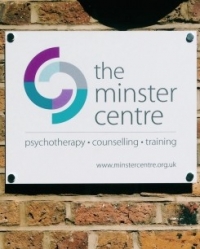 Hosted by The Minster Centre Psychotherapy and Counselling Services
The Minster Centre provides professional training in counselling and psychotherapy and an affordable therapy service. Founded in 1978 as the first integrative training programme in the UK, it has now established itself as the leading integrative psychotherapy and counselling training institute in Europe.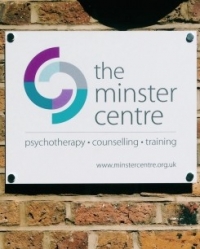 Hosted by

The Minster Centre Psychotherapy and Counselling Services