Home

>

Communication skills for couples - A 1-day workshop
Communication skills for couples - A 1-day workshop
Date & Time:
9th September 2017, 9.45am - 5pm
Location:
Transition Town Forres Centre
Community Garden
Bogton Road
Forres
Moray
IV36 3TW
Email organiser
Workshop overview
Are you able to say how you feel and ask for what you need in your relationship? Are you good at listening to your partner and empathising with their point of view? If these skills are challenging for you or your partner, you're not alone. Most of us did not grow up in families that modelled these relational skills and they weren't taught at school!
This workshop provides an opportunity to learn two essential components of effective communication:
How to express your feelings without blame so that your partner can hear you without becoming defensive.

How to listen empathically so that you can really understand how your partner is feeling.
What are the benefits?
Regularly practising emotionally intelligent communication can strengthen your relationship by helping you to:
de-escalate conflict

create safety

build trust and goodwill

encourage greater honesty and transparency

provide emotional support to each other

deepen intimacy
Who is it for?
All couples are welcome whether long-term or newly formed, straight or gay. Couples will practise skills with their own partner to maximise their learning. Being in a relationship can be hard work and it's easy to think we are the only ones with communication issues. The aim of this workshop is to create a relaxed and friendly learning environment in which we can support each other in our desire for healthier and more loving relationships.
Further information and booking
If you have any further questions please contact Lucy Fredman on 07902 225923 or lucyfredman@interfacetraining.net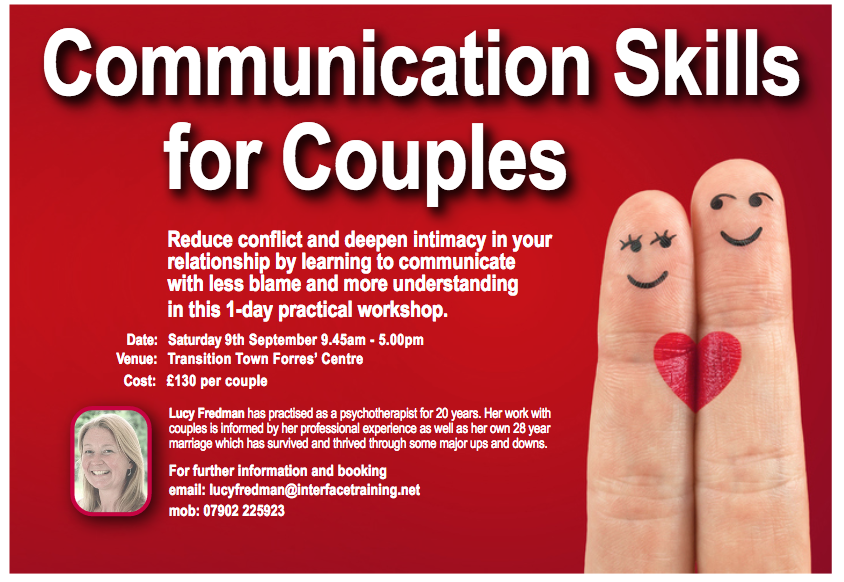 About the host
Lucy Fredman is a UKCP registered psychotherapist with 20 years experience in private practice. Her work with couples is informed by her professional experience as well as her own 28-year marriage which has survived and thrived through some major ups and downs.