>

Body process practicum/supervision group
Body process practicum/supervision group
51 Lothian Road, Edinburgh, EH1 2DJ
With Graham Colbourne
This practicum and clinical supervision group provides substantial ongoing support and learning for practitioners who have completed an initial psychotherapy or counselling training or equivalent.
The group focus will include many aspects of working ethically and competently with relational body process:
Awareness of body process (your own and others) including presence, ground, breath, voice, energy, spirituality, posture, movement, support and contact functioning, relational impulses and responses, existential / co-transferential / somatic / erotic / developmental themes; capacity for receiving, withdrawing from, and offering touch
Understanding of commitment, power, difference, conflict, trauma, vulnerability, desire, shame, fear, diversity, pleasure, sexuality and attachment in embodied and dialogic therapeutic relationship
Developing competence in formulating perception of relational body process into clinical themes and choices based on relevance, risk and effectiveness
Developing range and competence in therapeutic use of self; taking risks in the service of the client
Developing reflective practice, including identifying and working with ethical dilemmas.
We will attend to personal and professional development in lively, creative, and challenging ways, drawing from clinical examples, supervision, live supervision, experiential work and theory input.
We will negotiate with you individually around the suitability of this group for your stage of development.
Location: Edinburgh Gestalt Institute.
Dates: 4 October 2013; 22 November 2013; 10 January 2014; 28 February 2014; 4 April 2014; 27 June 2014.
Participants commit to the series of six sessions.
Time: Fridays 1-7 pm.
Cost: £540 for six sessions (£90 per session). This is payable as an initial non-refundable deposit of £120 and subsequent payments of £70 for each session.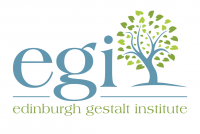 Hosted by

Edinburgh Gestalt Institute