Home

>

Belonging: Residential workshop for women
Belonging: Residential workshop for women
Date & Time:
16th - 18th March 2018, 6pm - 3pm
Location:
Little Gayles
Friston
Eastbourne
Friston
BN20 0BA
Email organiser
To belong is a human need. We all strive towards a sense of belonging, to ourselves, our families and our communities. Our experience as a child has much to tell us about who we are now in our relationship to belonging. Our history provides a template from which we as adults, continue to create and form our sense of connection and belonging in the world, cognitively, emotionally and somatically.
In this workshop, we will look at how we relate to ourselves and others to create a sense of belonging and how we may enhance this experience. We will explore the obstacles that keep us from connecting, both from our internal world and from the world around us. The group will provide an opportunity to learn about ourselves within an interpersonal context, to feel supported and challenged to take risks outside of our normal habituated behaviours and find new possibilities for ourselves.
A residential workshop is a unique and often profound experience, where within a safe and supportive environment, the group can be a catalyst for sharing, participating, learning and growing.
The workshop will be held at Gayles retreat centre, located on the South Downs, five miles from Eastbourne and will run from 6pm on Friday 16th March until 3pm on Sunday 18th of March. The cost is £385 which includes all meals and accommodation. To book a place or to find out more please contact Lotta Kitchen on 07764 760931, Pom Eaton on 07794 754871 or Lora Wignall on 07742 809979.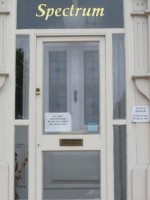 About Spectrum Therapy
Pom, Lotta and Lora are Spectrum-trained and accredited therapists who work in the Spectrum practice. They each maintain their own practice and have a range of interests and a variety of areas of work. They abide by the Spectrum professional code of ethics and practice and are registered with a national professional body.