Home

>

Addiction as an attachment disorder: attachment gone wrong
Addiction as an attachment disorder: attachment gone wrong
Phone:
020 7378 2050 / 020 7378 2002
Date & Time:
21st July 2018, 10am - 4pm
Cost:
£120 for qualified therapists, £95 for trainees
Location:
WPF Therapy
23 Magdalen Street
London
SE1 2EN
Email organiser
Are you interested in re-visiting attachment theory, with a particular focus on insecure on insecure attachment?
Do you want to increase your understanding of how substance abuse can be seen as a manifestation of insecure attachment in the addicted client?
Would you like to consider how your own attachment style manifests in behaviour, alongside considering your own clinical material?
Attachment is defined as the lifelong need human beings have for affectionate ties with significant other human beings. It is a biological necessity for us to have a secure attachment relationship. Although much of the research on attachment has focused on infants and children, attachment theory is also applicable to adults in a psychodynamic framework, as 75% of attachment patterns remain stable through to adulthood.
The impact of childhood events often casts a deep shadow over us in adult life. Understanding attachment theory can serve as a solid foundation for understanding the development of ineffective coping strategies, and the underlying dynamics of a client's emotional difficulties.
This workshop will consider the aetiology of a person's addiction as resulting initially from a place of broken attachment relationships.
During the day participants will briefly re-visit attachment theory and styles. We will consider the links between attachment insecurity and: substance misuse, disordered eating, gambling, and sex addiction. There will be presentation of theory and research alongside clinical vignettes. Group clinical discussion will explore therapist attachment insecurity provoked in the client work.
There is an expectation that participants are familiar with the basics of attachment theory (Attachment in Psychotherapy, David J. Wallin, 2017).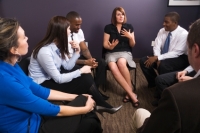 About WPF Therapy
WPF Therapy is a well established and respected therapy training organisation. Throughout the year we provide CPD workshops and lectures to augment the clinical and theoretical learning offered by training organisations. This also offers the opportunity to focus on topics pertinent to the clinical work provided by new and established practitioners.