>

A one-day workshop on organisational dynamics with David...
A one-day workshop on organisational dynamics with David Lawlor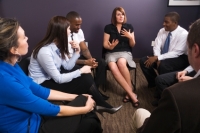 13th February 2021, 9.45am - 3.45pm
Qualified Practitioners: £75 Counselling/Psychotherapy Trainees: £65 WPF Therapy Trainees/Staff: £55
Organisations are facing unprecedented challenges in the current climate of economic austerity. In the workshop we will consider:
What are the causes of stress in organisations?
How do people behave under stress?
How do we understand ideas about role and primary task in organisations?
How is power used and abused in organisations?
Why can it sometimes feel impossible to collaborate to get things done?
How do unconscious processes manifest themselves in organisations?
The workshop will provide opportunities for participants to:
Discuss work dilemmas.
Problem-solve, plan and collaborate on issues and dilemmas.
Bring aspects of their practice that they are curious about and want new ideas around how to work with those current dilemmas.
Examine the roles they are unwittingly 'invited into' by the system and how task-orientated or anti-task they might be.
There will be some theoretical input. The workshop will be experiential and interactive. Participants will have the chance to discuss current dilemmas and preoccupations. Please come prepared to think about and contribute your own experience of working in or running an organisation.
Workshop leader
Dr David Lawlor PhD is a Professional Partner at the Tavistock Institute of Human Relations. He was formerly a Consultant Social Worker at the Tavistock and Portman NHS Trust where he was the Head of the Social Work Discipline and member of the Senior Management Team. David trained in organisational consultancy and psychoanalytic psychotherapy at the Tavistock Clinic.
He works as an organisational consultant and coach. He helps organisations learn and develop through training and consultancy interventions. He works with the technical and emotional challenges involved in implementing change. David has a PhD in the evaluation of Tavistock consultancy and an MSc in Human Resource Development from London South Bank University Business School.
Applications must be received by Thursday 4th February 2021. Booking will be final after receipt of payment.
If you experience any problems during the application process, please contact events@wpf.org.uk.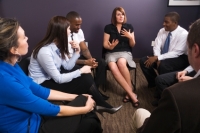 WPF Therapy is a well established and respected therapy training organisation. Throughout the year we provide CPD workshops and lectures to augment the clinical and theoretical learning offered by training organisations. This also offers the opportunity to focus on topics pertinent to the clinical work provided by new and established practitioners.