>

5th EFT (Emotionally focused therapy) summer school -...
5th EFT (Emotionally focused therapy) summer school - EFT-trained cohort
7th - 10th October 2020, 2pm - 8pm
Only 50 EARLY RISER tickets at £250, £300 till 25th Sept
The 5th EFT International Summer School - 'From Shattered Attachment to Recovery and Growth'.
EFT-Trained cohort - 7th-10th October 2020, with Dr Sue Johnson, founder of EFT, on the Future of Psychotherapy (live webinar with Q&As).
About this training
Open to all psychologists, psychotherapists, counsellors working with couples, individuals and families, practising EFT (Emotionally Focused Therapy) and/or trained in EFT at least to an introductory level.
Presentations:
"Fighting for connection - Intimate Partner Violence" with Lieven Migerode, EFT trainer, and Jef Slootmaeckers, EFT supervisor, Belgium.
 "The Future of Psychotherapy - Attachment science in action" with Dr Sue Johnson, Founder of EFT (live webinar with Q&As), Canada.
"High Waters, Stormy Seas – Attuning and Navigating toward Safety and Connection with Extreme Escalation of Strident Pursuers and Shut-Down Withdrawers" with Dr Ryan Rana, LPC, EFT trainer, USA.
"Where Polyvagal Theory and EFT Meet?" with Gulya Diyarova, ICEEFT cert. EFT supervisor, director of EFT International School.
Each training day will include:
didactic presentations
experiential exercises
role-plays
skills and intervention demonstrations by the trainers
video clips of real couple sessions with live commentaries from trainers
interactive group learning.
Past participants feedback (EFT International Schools 2016-2019):
"Tons of knowledge from presenters, felt a sense of the material, not just in the head, but in the heart!"
"Very empowering to see Lorrie working, in her videos, live sessions and with an escalated couple"
"What a gift of great learning to see Jim and Lorrie, therapists from Heaven, working with an escalated couple from Hell!"
"Superb presenters... an excellent choice of topics, valuable insights..."
"Very stimulating, diverse, engaging, inspiring, challenging. I want more..."
"Gulya's succinct overview, touching on attachment theory, the EFT model, stages and steps through the interventions which feel like I want, and dare, to use in the very next session..."
"Gulya, how did you manage to deliver all this valuable and vulnerable material in a package that was so understandable and useful from the start? You seem so 'effortless' and natural when you do it!"
"Thank you for organising it. Very, very worth the time and expense; highly informative"
"Could not be higher! Very stimulating and diverse. Looking forward to the next year event already!"
"Great mix of topics and each of them left me wanting to learn more. Lovely to connect with other EFT-ers from all over the world!"
"Absolutely excellent! So very practically helpful (used it in a session with a couple that evening!). Super-useful!"
"An ambitious venture - well-planned, well-executed and well-staged. Congratulations!!!"
For more information please visit our website.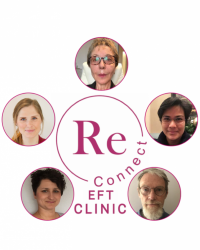 WWW.EFTINTERNATIONALSCHOOLLONDON.COM EFT Clinic is a clinical affiliate of EFT International School set up to promote Emotionally Focused Therapy for couples, individuals and families, Attachment-based integrative approach to healing and repair. We offer EFT trainings/events and work with leading EFT academics and experts.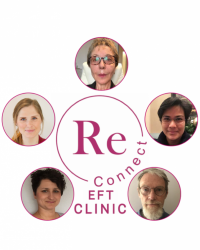 Hosted by

Re-Connect...EFT Clinic (Emotionally Focused Therapy)