Stuart Morgan-Ayrs

Verified Professional

Every professional displayed on Counselling Directory has been independently verified by our team to ensure they have suitable credentials to practise.
BSc BA BA MSc DHy DipC-PTSD FRSPH FRSSA FNCP FNACHP FCMA
Edinburgh, Midlothian, EH2 2AZ
About me
My service is the provision of specialist traumatology, that is the certified specialist clinical treatment of trauma (PTSD) and complex trauma (C-PTSD). I am a multiple certified clinical specialist in different accredited styles of trauma treatment.
My clients come from a range of backgrounds containing trauma, loss or abuse. These include but are not limited to:
PTSD events such as accidents, injury or military events
Complex trauma from childhood, otherwise know as Adverse Childhood Experiences
Domestic violence, manipulation, gas lighting and other abuse
Trauma associated with discrimination, "coming out" or other identity related events.
Grief and loss based trauma from bereavement, separation, conflict zones or indeed COVID
Many trauma survivors have collected other related diagnosis on their journey to identifying their core issue as trauma, and it is commonplace for them to have diagnosis of anxiety, depression, mood disorders, eating disorders, personality disorders or OCD. As a result I have also completed certified specialist training in several of these, and additional training in the rest.
I am a survivor of complex PTSD myself, and as a clinical with personal experience I will keep focused on core methods that work, while understanding how difficult and painstaking the journey can be.
It is widely accepted in traumatology that "talking therapy" alone is not enough to tackle and treat complex trauma.
An integrated approach is now recommended by the major experts and authorities in the field, and supported by the research. Elements include:
Psycho-education: learning about the science, neurology and patterns of the condition, including in relation to nutrition, self care, lifestyle and relationships.
Self regulation training: effective methods to manage and control the chaos, and self soothe
Somatic integration: relearning how to listen to the inputs, data and feelings in the physical body
Interpersonal integration: learning how to relate to people in post trauma environments
Developing new patterns: learning how to develop new thought and behavioural patterns and the neurology behind how to make this actually work.
Major traumatology research recommends a three part approach, and although slightly different styles uses slightly different descriptors, these are essentially:
Stabilise: Using psycho education and self regulation to gain control and stability before delving deeper.
Somatic and theme analysis: Learning to identify the patterns of belief and behaviour and how they developed, and reconnecting to the other systems of the body.
Post trauma: Learning to live and thrive post trauma, living fully with your own narrative.
In your therapy journey I will base all the work around research evidenced methods, while adapting to make the journey personal and appropriate to your individual needs. "What works - Gently!"
How to book: EMAIL me (please do not phone) and request an information pack.
I will send you 2 files, the second is on the industry, the first- FILE 1 will describe in detail the service, have weblinks to all our terms, conditions and policies, lays out the free structure, and provides a link to the online screening and assessment forms.
Training, qualifications & experience
Before training as a therapist I was already a qualified Martial Art Instructor (including training in some health related styles like Chi Gung and Tai Chi), and a graduate in Industrial Information Technology (BSc Hons IIT) specialising in analytic methods and human resources.
1993-1996 Diploma in (Psycho)Analysis, Clinical Hypnosis and (stress management) counselling, externally validated through the NVQ system to what is now revised to Level 5. This required over 1,000 supervised client hours.
1999-2001 Accreditation Process with the National Association of Counsellors Hypnotherapists & Psychotherapists (a validation body for the CNHC PSA AR scheme). This was post graduate accreditation in Counselling, Hypnotherapy, Psychoanalysis, Cognitive Behavioural Therapies and Counselling.
Post Qualification Advanced Training
Since becoming a fully licensed and qualified practitioner I have also completed a range of additional university courses and professional accreditations. These are a vital part of my work since I am an Integrative and Multi-Modal Practitioner.
BA (Hons) Open: Specialising in Philosophy, Psychology and Psychology
BA (Hons) Psychology & Philosophy of the Mind
MSc Psychology: Specialising in Identity Comparative Models, Neurology and False Memory
ACT competency accredited
Clinical Mindfulness competency accredited
CBASP competency accredited
RO-DBT competency accredited
Post Qualification, Post Graduate Clinical Specialism Certifications
As a specialist, primarily in traumatology (PTSD and Complex Trauma / C-PTSD) I have completed a number of Clinical Specialist Certifications. These require full license and a Masters Degree in order to take part.
CCTP-I Certified Clinical Trauma Specialist
CCTP-II Certified Advanced Complex Trauma & Disassociate Disorder Specialist
CCTS-I Certified Individual Complex Trauma Specialist
Certified Clinical use of Hypnosis and Neurology for the treatment of Trauma Specialist
Level 7 (Post Graduate Diploma Equivalent) Diploma in Complex PTSD
CDMCDT Certified Clinical Depression & Mood Disorder Treatment Specialist
CAGCS Certified Clinical Advanced Grief Counselling Specialist
CIMHP Certified Clinical Integrative Mental Health Health Professional
Additional Specialist Post Graduate level CPD Training
Additional areas of intensive continuous professional development training have included:
Relational EMDR
Polyvagal Neurology
Interpersonal Neurobiology
Advanced modern clinical Mindfulness
Compassion based therapies
Nutrition for mental health
Spiritual aspects of Trauma treatment
Anger management
Anxiety Treatment
Attention Deficit Disorder issues
LGBT* & Kink related issues, also Poly and A-sexual issues
Professional Registrations
Because I work in a number of different models and in an integrative and multimodal way, I maintain a number of professional registrations, so that I have appropriate registration and monitoring for each of the different areas I work in.
Fellow of the Royal Society of Public Health
(Psycho-education)
Fellow of the National Council of Psychotherapists
(Integrative Clinical Psychotherapy & Traumatology)
Fellow of the National Association of Counsellors Hypnotherapists & Psychotherapists
(Counselling, Hypnosis, Psychoanalysis, Cognitive Behavioural Therapies, Mindfulness)
Fellow of the Federation of Holistic Therapists (Currently a PSA AR until Jan 2022)
(Holistic Mind Body Therapy)
Fellow of the Complementary Medical Association
(Holistic Mind Body Therapy)
Registrant with the Complementary & Natural Healthcare Council (PSA AR)
(Clinical Hypnotherapy)
Ordinary Registrant: Psychotherapeutic Counselling, UKAHPP (PSA AR)
(Humanistic & Person Centred Counselling - non clinical work)
Member organisations

United Kingdom Association for Humanistic Psychology Practitioners (UKAHPP)
UKAHPP is a national accrediting organisation for all those who apply the theories of Humanistic Psychology in their work. The UKAHPP is an independent member organisation of the United Kingdom Council for Psychotherapy (UKCP) and the UK Register of Counsellors.

The Association is made up of a number of different membership classes e.g. Associate Members, Affiliate Members, Full Members, each with different requirements for entry. Full Members may use the initials 'MAHPP' after their names, and have undergone a rigorous accreditation procedure relevant to their discipline.

All members of the Association of Humanistic Psychology Practitioners must commit to acceptance of the UKAHPP Code of Ethical Principles, the UKAHPP Code of Practice, the UKAHPP Ethical Review Procedure and the UKAHPP Complaints Procedure.
Accredited register membership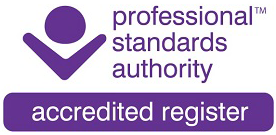 Accredited Register Scheme
The Accredited Register Scheme was set up in 2013 by the Department of Health (DoH) as a way to recognise organisations that hold voluntary registers which meet certain standards. These standards are set by the Professional Standards Authority (PSA).
This therapist has indicated that they belong to an Accredited Register.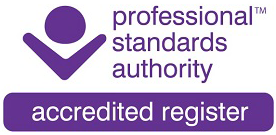 Areas of counselling I deal with
Other areas of counselling I deal with
My approach is Integrative and Multi Modal and can be trans-diagnostic. That is to say although I am informed by medical diagnosis that a client may have, I will also look beyond surface issues to deeper issues such as trauma, grief and attachment issues.
Fees
Additional information
Fees are updated yearly in April
On receipt of your enquiry the latest fee structure will be provided in pdf format for your reference. We have a fee structure according to client income.
Further information
My service is almost entirely focused on trauma, complex trauma, and those conditions that appear alongside trauma, such as OCD, eating and personality disorders, depression and mood disorders and anxiety. 
I work out of a custom arranged and COVID secure clinic in Edinburgh City Centre, with strict cleaning, sterilisation and air filtration. I have completed two COVID hygiene and safety courses for clinical professionals, and I maintain extremely high standards of COVID safety.  I also see clients online, both at distance and when COVID or other health measures require it.
Most of the time my clinic is extremely busy or full, especially since the COVID pandemic, but when things are quieter, I also provide humanistic psychotherapeutic counselling for non clinical conditions.
If you contact me, you will be sent my information files. File 1 is all about the service, what to expect, and has weblinks to all the terms, conditions and policies you need to know about and agree to in order to use the service. File 2 is about regulation and standards.
If you decide to proceed after reading the information, please complete the TWO online forms via the weblink right at the end of File 1. These are the Screening and Assessment form, and the COVID safety form. Once these have been received and checked, I will let you know whether the service is a clinical sensible match for you. 
I have experience, knowledge and study of a range of identity issues including faiths, ethnicities, sexualities and kinks. If you have indicate that you have any particular relevant identity issues, that may play an important part of your therapy journey, I will let you know after reading the screening forms whether these are issues I have sufficient knowledge of to be an appropriate therapist for you. My priority is to ensure you find the most appropriate service for your needs.
Please note: I do not answer phone calls to my mobile (impossible in clinic and when travelling), and I do not "have a chat" before clients book (it is not my job to persuade anyone to have therapy, and discussing your case pre assessment is unethical speculation). I also do not accept requests to "do CBT" or "do hypnosis" etc, I am a clinical specialist, and therefore I will outline the appropriate therapy models for you after your assessment for you to consider.
How to book: EMAIL me (please do not phone) and request an information pack.
I will send you 2 files, the second is on the industry, the first- FILE 1 will describe in detail the service, have weblinks to all our terms, conditions and policies, lays out the free structure, and provides a link to the online screening and assessment forms.
Key Words & Phrases:
Trauma, Complex Trauma, C-PTSD, PTSD, Abuse, Childhood abuse, Emotional Abuse, Domestic violence, Adverse Childhood Experience, ACE score, Personality Disorder, Mood swings, Anxiety, OCD, Depression, Sexual violence, Sexual trauma, Grief and Trauma, Bereavement, Relationship Trauma, Interpersonal Therapy, Trauma counselling, Somatic Trauma Therapy, Integrative Trauma Therapy, EMDR, Hypnosis for Trauma, Trauma Therapist, Trauma Counsellor, Psychotherapy for Trauma, Counselling for PTSD, Counselling for C-PTSD, Abuse survivor, rape survivor, incest survivor, Family trauma