Diane Doyle BAPT Adult And Child Play and Registered Theraplay Therapist
About me
Children and adults can go through periods when difficult life experiences in the past or present impact coping and reactions to everyday stress and strains. Memories from the past and worries about the future can all effect our resilience to everyday life. Creative Therapy clients range from 3 -100 years and find Play Therapy useful if they are distanced from their feelings, finding it too upsetting to talk about painful experiences, and would find it difficult to benefit from talking therapies such as counselling or psychotherapy. Play Therapy provides a safe, confidential regular space to express and explore difficult feelings, allowing you to process troublesome events with someone who is trained to use empathy, genuineness and non-judgemental support. Even when you have the language and cognitive skills to process life events, sometimes coping skills can be overwhelmed, and if not addressed can lead to problems further down the line. Emotions can leak out and feelings can be expressed in ways that are unhelpful to the individual, but without consciously linking the behaviours and set patterns to the past experiences or difficult life events. A Play Therapist can offer a variety of creative expressions to enable awareness and understanding of behaviours and the links between these without the need to use words or think conceptually.
What is Play Therapy?
Play therapy is a psychotherapeutic approach used with children and adults to help them process their feelings about difficult life experiences that are affecting them. Using Play and creativity allows a non-verbal way of processing past experiences or traumatic events in a safe, contained therapeutic environment. In childhood, play is a natural process of communication and a vital part of growth and development. Throughout the life span, playfulness and communication is crucial to social, emotional, cognitive and physical development.
Instead of trying to verbalise what is troubling, Play Therapy offers a nonverbal way of approaching the trauma in a manner that could help uncover unconscious processes. Being able to use toys in the metaphor and creative arts allows the child or adult to process feelings and work at their own pace. With the support of a highly trained play therapist, the child or adult can explore and express many emotions such as shame, guilt, sadness and anger which can support the development of self-awareness and movement towards healthy behaviour, social integration, emotional growth and self-acceptance. Play Therapy can also be used to uncover and bring into focus fears and emotional blocks that hinder personal development.
As a rule of thumb, the more traumatic the experience or more deeply it has been embedded, the more sessions required. Play Therapy is an evidence based practice that can provide a practical and clinical framework to help identify strengths and difficulties, and implement a therapeutic intervention that may address social, emotional, and educationally diverse difficulties by bringing a range of creative expressive techniques into therapy.
A crucial element in this approach is patience as a one size fits approach all will not reach the levels of unconscious processing needed to come to terms with difficult life experiences, although the Play Therapist can introduce creative media processes to help access the unconscious mind. Regular sessions provide a patterned, repetitive, rhythmic way to access, integrate and build new pathways in the neural  networks that allow the changing brain the plasticity that underlies therapeutic change. Clients, families, caregivers, schools and Play Therapists who are not aware of this can often become frustrated or confused and give up (Perry, 2009). In playspace-expressions you will be supported to play and express how you need to, and guidance will be given to help you facilitate change outside the sessions. With these insights and understanding of the problems, you will be better able to make the changes you need to improve your life, and gradually feel better.

FAQ

When do I come and how often?

Sessions are scheduled for the same day and time once a week.
In the beginning you might want to come more than once a week - this can be discussed in your consultation. Sessions are usually 50 minutes long. The sessions are long enough for you to return to the different areas until you are happy that you have expressed what you are really feeling.

What kind of problems can I talk to you about?
There are no hard and fast rules, adults may have long standing problems that stem from childhood that talking therapies just don't access. There could be prolonged or single incident traumas and children can often get stuck in a developmental stage that may or may not resolve on its own. Some issues that frequently come up are:
Relationship difficulties: family and friends, colleagues, commitment, jealousy, abuse
Family issues: partners, significant others, children, parenting, separation and divorce, homesickness, elderly parents, caring.
Childhood difficulties: School refusal, Sibling rivalry, childhood illness and hospitalization, separation anxiety and clinginess , friendship difficulties, bullying others and being a  bully, emotional eating and weight loss or gain, difficulty sleeping, schemas and tics, speech and language delays, self-harm, risk taking, reactive behaviours, poor concentration, organisational difficulties and lack of motivation , grief from losing a loved one, grief from losing a pet, shame, fear of failing, relationship difficulties with carers.
Lack of confidence: worried about failing, never being good enough, feeling judged, low self-esteem, and body image.
Depression: feeling isolated, lonely, empty, tearful, unloved and worthless.
Repeated destructive behaviour: binge eating, risk taking, harming oneself, abusive relationships, alcohol, drugs, and gambling
Work/study stress: lack of control, panic attacks, isolation and lack of motivation and feelings of inadequacy
Loss and Bereavement: loss, anger, loneliness, sadness, depression, dealing with past traumatic events and experiences,
Disability, illness and hospitalisation: great stress, fear, pain, grief or upset in connection with a hospital, illness, debilitating condition or congenital or acquired cognitive or physical disability.
Pre and postnatal anxiety: tension and stress, identity, intimacy and role change,dealing with past traumatic events and experiences, restoring confidence and feeling in control, changing body image.
How can playing help?
Playing and creativity is a natural way for people to express themselves. If you are a private person, or want to work on issues you would not want to share with other people, you may find one to one Adult or Child Play Therapy helpful. It can help you explore and understand your relationships with other people.
Through play you can externalise and show things on the outside that are upsetting you inside. Playing alongside a Play Therapist helps to explore and make sense of distressing feelings and thoughts that have become confusing or even overwhelming.
By choosing what you want to play with and going at your own pace, without being questioned or pressured, you can start to feel more in control and this can increase ways of coping better in the future. The outcomes of Play Therapy vary: you may feel increased self-esteem or be less anxious; your behaviour may change and you may get on better with family and friends. Each person's experience is unique. It is difficult to say in advance what the outcomes will be or how many sessions will be needed to reach your goal or ideal outcome. There will be a review every 6 sessions or so when you can discuss how things are going with the Play Therapist and they will help direct you to think about new ways of relating to the world.
But I'm too old for Playing?
Play therapy is not just for young children, you can be 3 -100. When you go each week, you will be doing something you are interested in and whether it is music, art, drama, modelling or just talking, that's up to you. Your Play Therapist can help you find ways to create or act out things and then help you understand more about your feelings and the things you like and don't like about the way you feel. You don't have to talk to or play with the Play Therapist if you don't want to, but they will gently track some of the work you do. When you relax and play, your imagination gets a chance to play too. Within the sessions we can incorporate elements from art psychotherapy, dramatherapy, clay work, sandtray worlds and by playing in metaphor work through social and emotional conflicts.
What Do Play Therapists Do?
Play Therapists have received extensive training in subjects such as Child Development, Neuroscience, Attachment (the relationship bonding process) and Humanistic Person Centred Counselling. They are trained to use play and creativity to understand and communicate effectively. This can help bring back old memories you thought you had forgotten, helping you deal with difficult things in your past and move on from them.
Play Therapists use a variety of toys and sensory play such as dressing up props, puppets, books, small figures and animals, life like baby dolls, sand trays, clay, water, potion making, art and craft materials to enable adults and children to re-experience that which they have missed developmentally and are drawn towards to expressing from themselves. It is important that the therapist provides a non-judgemental trusting relationship in which the person feels safe, comfortable and understood. There is no 'right' way to play and express what is needed to provide a corrective experience, and sometimes play may seem dark and disturbing as you are drawn to play out and express something which lies just under your awareness. It may take several sessions playing out the same theme while you begin to release the burden of suppressed emotions. I will be alongside you as you reveal these feelings in words, creativity or play, and will help you know you don't have to tidy the feelings away or carry this burden alone.
As a Play Therapist, I use metaphor and play techniques with all the adults I work with, from parents whose children are referred to Play Therapy, to the teachers whom I contact for reviews to my adult clients. Using play enables effective communication, expression and engagement.
The Play Therapist will start by listening carefully to your feelings and concerns. It is important to gain an understanding of your strengths and difficulties and the things that have been affecting you. Other relevant information such as your birth history, family and other interests will also help to form a full picture, and this is often an emotional experience. A plan can then be made about how best to support you. It doesn't really matter how you present your problem. You can say whatever you like or use creativity to express your feelings. Sometimes there is silence; sometimes you might find yourself saying things you had not expected to say.
How many sessions do I need?
There is no single answer to this question. Each person's experience is unique. It is difficult to say in advance what the outcomes will be or how many sessions will be needed to reach your goal or ideal outcome. There will be a regular review every 6 sessions or so when you can discuss how things are going with the Play Therapist and set new targets or outcomes as you think about making new choices in connecting to the world.
If the free choice of being able to play or create in any way you choose is too overwhelming, the Play Therapist can take you through a set program of 15 sessions designed to help you uncover layers of unconscious processes and gain new insights. Your creations can help understand more about your feelings and what may be causing them, and I can help you to think about and learn how to process and deal with them.
What progress can be expected?
Play Therapy deals with difficult and painful issues. The pace is not to be rushed and specific results cannot be predicted in a time frame. Play Therapy can help release from shame which supports progression towards health.
Most clients find Play Therapy a helpful way of releasing and making sense of upsetting feelings and experiences; this has a beneficial and positive effect on behaviour, relationships and development. Ideally, counselling ends when the problem becomes more manageable or is resolved. During the first session, we will discuss the length of treatment that may be needed to achieve your goals and to begin to feel better.

Therapy can bring up unexpected and unresolved memories or feelings, and you will be supported to keep the expressive play in the playroom and given time and support to adjust and come to terms with these insights before you have to go back out into the real world. The purpose of these sessions is to give you awareness into conscious and unconscious processes along with early life experiences that may have impacted your coping strategies and ability to come to terms with certain life experiences. You will work through these at your own pace in a safe and supportive therapeutic environment to enable you to build resilience and find your own resolutions and decisions.


Does having Play Therapy mean I can't cope?
Paradoxically, it can be seen as an indication of strength to ask for help and support and as Play Therapy works on a developmental level, you can move through creativity and expression in any way you choose. There is no 'right or wrong' way to play and create. Asking for skilled support often means you have taken the first difficult step to resolving a problem or challenging life experience. Coming to terms with these difficulties is a sign of strength and also helps to release yourself from feelings of blame, anger and shame. No two people are the same, and therefore using a playful creative approach enables me to be flexible with the client and their individual therapeutic journey.
Is Play Therapy psychiatry?
Play therapy bears little relation to psychiatry except that both deal with emotional and mental processes. Your Play Therapist cannot prescribe medication, although they can write letters and reports and sit on case conferences and child protection panels for child clients.


Steps in the play therapy process 1- 2- 3
Step 1
I have met the relevant adults and the client, case history is taken, consent given, confidentiality is explained, and the financial arrangements are put in place. The first stage concerns the establishment of a therapeutic relationship between the therapist and the adult or child so that trust can be established through the core conditions of acceptance, genuineness, communication and empathy on the therapist's part. This aids the understanding the therapeutic playroom is a place to explore and discharge past experiences at a safe and controlled pace. I may become aware of specific presenting difficulties at this stage, and these will be reflected in the joint contract that gives a clear understanding for containment and safety during the sessions.
Step 2
In the second stage the client and I will explore through art, sand trays, clay, role play, metaphor, and creativity to access toys, objects and dramatic play,  in a more focussed way to help integrate and make sense of blocks and difficult life experiences. There can be much repeated working through themes in subsequent sessions as the client uses the play materials to express themselves effectively.  I can be a play partner at the clients direction, empathic listener and audience, Scribe to stories, or witness to the value and importance of what is being expressed. Some clients prefer sessions to be structured, others prefer more choice and flexibility.
Step 3
The goal of the final stages is to develop self-esteem and an identity that is not so caught up in the difficult life experiences or abusive relationships of the past. With a child I can enter more into the play doing what the child suggests, with the adult I can quietly and unobtrusively provide the space, freedom and protection for the adult to express how they need to without interruption. Endings are planned and can include a special ceremony or be open ended as required. All expressive media created in the sessions is returned to the clients or held by me at the client's request.
Theraplay, Filial therapy and Child Parent Relationship Therapy
Theraplay® is a child and family therapy based program of sessions that focuses on improving the child's behavioral and emotional challenges through the parent-child relationship. In a session, the therapist guides the parent and child through playful games, challenging activities, and nurturing interactions. Theraplay helps the child experience previously difficult interactions in new ways, helps overcome fear and increase trust, and creates a positive change in the child's sense of self. Theraplay® helps the parent be attuned to the child, understand the motives of the child's behavior and the underlying needs, manage environmental stimuli, and carefully challenge the child in a safe place. While other therapies may work primarily with the child alone or work with parents on managing the child's behaviors, Theraplay focuses on the parent-child relationship as the most powerful and influential element for change.
MIM Assessment
The MIM is a structured technique for observing and assessing the overall quality and nature of relationships between the caregiver and child. It consists of a series of simple tasks designed to elicit behaviours in four key aspects in order to evaluate the caregivers' capacity to: Structure, Engage, Nurture and Challenge the child, and the child's ability to respond to these efforts.
Filial therapy

is a closely related form of child-centred play therapy that involves the parents or carers directly as the agents of therapeutic change. Filial therapy can help parents and children to form closer and happier relationships. Elements of filial therapy are included in the Individual child play therapy sessions and reviews, and parents will be taught some filial techniques.
Child Parent Relationship Therapy

follows a set 10 week program suitable for all ages to enhance parents previous knowledge using outcome measures, parent handouts, and worksheets. The parent comes to the therapist to learn new techniques and ways of empowering the family. Each week a small target will be set and feedback will be given to strengthen the child parent relationship and form a lasting bond.
What I offer.

My practice and training incorporates client-centered counselling, non-directive and directive Play Therapy, Child Parent Relationship Training, MIM assessment and Theraplay in a wheelchair accessible private practice.  I have also worked as an Early Years Educator and have many years' experience working with complex and dysregulated families many of whom were in the Child Protection or Criminal Justice system. In 2015, I received Trauma Training which enabled me to liase with media and train others to communicate with mass media such as National Press and Facebook, and use crisis management for the families, schools, and local community. This was used when a local family attached to my practice suffered traumatic bereavement due to a road traffic incident with multiple fatalities and injuries. This was also used a second time, when a traumatic child death impacted schools, families, staff and enabled me to put into place my practical knowledge and use of strategies  of how children cope with trauma compared to adult coping skills.
My passion for equality means I have undertaken professional development training in FGM, Child Protection, Attachment, Empathy, Emotional Intelligence and Relationship Based Practice, and working with Auditory Processing Disorders. I also work providing training and therapeutically supporting Parents/ carers and staff at a small charity in Ealing for Children with Additional Needs.
Training, qualifications & experience
Qualifications
MA Play Therapy; Theraplay Level One and Advanced MIM Assessment; Foundation Diploma in Dramatherapy; Child Parent Relationship Therapy (CPRT – Research based 10- session Filial Therapy Model); Art Psychotherapy summer school; Early Years Educator EDEXCEL 3
Theoretical approach
Non - directive and child/ person centred. Informed by neuroscience and attachment theory
Code of ethics
BAPT


Professional Memberships:
Theraplay Institute - Foundational practioner.
British Association of Play Therapists - Full Member.
Association of Play Therapists United States - International Professional Member.
Food and Behaviour Research Institute - Associate Member.
Alternative communication: Makaton and PECS.


Areas covered
Wheelchair accessible private practice for adults and children in Acton, West London. Schools and home visits in Acton, Ealing, Hammersmith and Fulham, Wandsworth, Putney, Hounslow, Richmond, Hammersmith and Fulham, Kensington and Chelsea

Suitable for
Abuse or neglect
Addiction
Affairs and betrayal of love or friendship
Alcoholism and being a witness to or victim of alcoholism
Anxiety
Bereavement
Becoming a new parent due to pregnancy, fostering or adoption.
Bullying others and being bullied
Career challenges and barriers to success
Caring due to trauma, disability, or dementia
Cross cultural relationships
Cutting and self-harm
Rescuing and enabling personality type
Depression
Disability – acquired and congenital
Being a witness to or a victim of Domestic Violence
Eating disorders
Emotional abuse
Emotional blocks to success
Emotional regulation and behavioural difficulties
Emotional eating and drinking
Fostering, Kinship or Adoption
Family Issues
Gender dysphoria
HIV/AIDS
Hospitalization
Internet / Gaming addiction
Illness
Learning difficulties
Loss through bereavement, family breakdown or relocation
Low self confidence
Low self esteem
Passive aggressive behaviour
Physical abuse
Post-traumatic stress disorder
Redundancy
Relationship enhancement and interpersonal relationship difficulties
Recovery from shame and embarrassment
Self harm
Separation and divorce
Sexual abuse
Sexuality
Stress
Substance abuse – witness of or victim to
Trauma due to single incident or prolonged trauma
Family stress
Therapies offered
Play Therapy
Child Parent Relationship Training
Filial Therapy
Theraplay
MIM assessment
Mindfulness
Member organisations

British Association of Play Therapists
The British Association of Play Therapists was founded in 1992 by a group of now respected practitioners who introduced and pioneered Play Therapy within Britain. Accredited by the Professional Standards Authority.
Accredited register membership

Accredited Register Scheme
The Accredited Register Scheme was set up in 2013 by the Department of Health (DoH) as a way to recognise organisations that hold voluntary registers which meet certain standards. These standards are set by the Professional Standards Authority (PSA).
This therapist has indicated that they belong to an Accredited Register.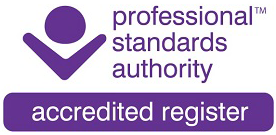 Areas of counselling I deal with
Other areas of counselling I deal with
Specialised training in Autism and ADHD and avoidant and restricted eating common in Looked After and adopted children.
Therapies offered
Humanistic therapies
Person-centred therapy
Play therapy
Fees
Fees
From £50 including all resources, personal and professional indemnity and clinical supervision as required by practicing British Association Play Therapy practitioners.

I offer a free initial session which will provide you with the opportunity to establish how we will work together and ask any questions. During that first session, we can discuss your goals and expectations, how therapy works and my policy on cancellations, appointment times, confidentiality and fees.
Further information
I work empathically and holistically, which means that I look at emotional issues as part of a greater whole, and regard the mind, body and spirit as fundamentally interconnected, and view the systems operating around your life as key to understanding your situation.