Scotland Online Therapy and Counselling (Alexandra O'Brien and Associates)
Glasgow, G2 4RW
07763268463
07763268463
Registered / Accredited
About me
Welcome
Thanks for dropping by and welcome to Scotland Online Therapy and Counselling! Hello, my name is Alexandra O'Brien and the practice is headed by me, an accredited Integrative Cognitive Behavioural Psychotherapist, Clinical Supervisor, Accredited Trainer and Psychology Practitioner. I also have some Affiliate Therapists and Counsellors who also provide therapy and counselling. The team consists of Alexandra, Amanda, Alana, Sue and Stephen. We are all fully qualified and experienced therapists and Alexandra and Alana are accredited too (COSCA and/or BABCP).

COVID-19 IS CHANGING HOW WE WORK

Are you looking to access online therapy and counselling from the comfort of your home? The COVID-19 situation around the world and closer to home, in Scotland, means that it's a worrying and anxiety-provoking time for all. Restrictions mean that face-to-face appointments are almost impossible. Yet, that doesn't mean your mental heath or emotional wellbeing has to suffer.
We've moved appointments online and can offer you online therapy, CBT, counselling and guided self-help for a range of concerns, problems, difficulties and mental health conditions. We can provide online audio-video sessions via Zoom, which is an easy to use, GDPR compliant platform. We can also provide Email Therapy and Counselling.
Join us for some therapy and counselling, with a coffee, in the comfort of your own home or office.


So, I hear you asking 'What is Online Therapy and Counselling?' and 'Why Choose it?'


* SEE END OF POST FOR SPECIAL OFFER ON EMAIL THERAPY
Online Therapy or Counselling, also known as e-therapy or teletherapy involves providing therapy, CBT, counsellung, guided self-help sessions, mental health services and support over the internet. Online therapy and counselling can be delivered using a range of methods.
There are a number of reasons why someone might choose an online therapy option. These include convenience and accessibility that this delivery method provides. Due the current COVID-19 situation, necessity is another reason why many new and current clients are accessing online therapy and counselling (via Zoom or email).
We are responding to the needs of current, new and potential clients amidst the current COVID-19 crisis who need to access online therapy and counselling (via zoom or email). Once the crisis has settled, you can continue with online therapy and counselling or attend face-to-face sessions at our offices in Glasgow city centre. The choice is yours.
** Types of Online Therapy and Counselling We Offer
Scotland Online Therapy and Counselling Service provide online therapy and counselling via Zoom and Email. See more information below:
* ZOOM: Zoom is confidential and GDPR-compliant audio videoconferencing platform. Your sessions are conducted via video from the comfort of your own home or office.
Therapy and counselling via Zoom may be accessed via a desktop computer or laptop or tablet. Some may access it via phone, however, we have found that therapy is more effective via a desktop computer, laptop or device as your therapist may share resources with you during sessions, show graphics or work through worksheets with you and desktop computer, laptop or tablet lend themselves well to this way of working.
Your therapist will send you instructions on how to join Zoom and access sessions. It's easy and convenient to use.
* EMAIL: Email Therapy and Counselling is in a time-delayed format and you will receive a maximum of 2 therapeutic support emails per week from your therapist.
Email Therapy and Counselling involves you, the client, typing your thoughts, feelings, problems, concerns or whatever you want to talk about and sending them via email to your therapist (a maximum of 1000 words). Your therapist takes the time to read and respond to your email with a well-thought-out therapeutic reply. Clients can send emails anytime and your therapist will provide a response within 2 days of receiving the email. Email Therapy and Counselling provides you with the opportunity to offload and release any thoughts, feelings, behaviours, worries etc. that are bothering you or causing you distress.
Email Therapy is easy to access, flexible and convenient. All you need is a personal email address (not used by other people) to send and receive emails. Email therapy lets you express your thoughts, feelings, experiences, troubles, worries, and concerns as they occur, at any time, rather than waiting for several days until the next session. Typing out your feelings in your own environment can be really beneficial too. It's reassuring to know that someone on the other end will take the time to read your email thoroughly and prepare a supportive, therapeutic response. Your therapist may even send over resources for you to work on or suggest tools or strategies to assist with what you are going through.
Clients may not always have the time to attend face to face-to-face therapy or online therapy via Zoom. Email Therapy offers you the opportunity to send an email to your therapy from anywhere and at any time.
Clients who are housebound; have hearing difficulties; live far from our offices; who wish some anonymity; or who don't feel comfortable with therapy face-to-face or via Zoom also find Email Therapy to be a convenient, flexible and comfortable choice.
*SPECIAL OFFER FOR EMAIL THERAPY: 10% OFF ALL EMAIL THERAPY SESSIONS WITH ALL THERAPISTS
For more information or to book an appointment, please feel free to get in touch.
Therapy, CBT and Counselling Tailored to Suit You
Scotland Online Therapy and Counselling allows you to avoid long waiting lists and to access the help, support and listening ear you need now - not in 6 months time.
My therapists and I are encouraging, non-judgemental and aim to make you feel as comfortable as possible during therapy to ensure you get the best possible outcome from therapy. Therapy and counselling is private and confidential and you do not need to be referred by a GP or other professional.
Therapy and counselling involves active collaboration between you (client) and your therapist (me) - working together to challenge and change unhelpful thoughts, feelings, behaviours and physical sensations that play a part in the problem(s) you're experiencing. The aim is to, over time, improve quality of life and help you address the concerns and problems you are facing.
Therapy and counselling takes a collaborative, yet focused and structured problem-solving approach in setting and working towards realistic therapeutic goals which you and your therapist evaluate on a session-by-session basis.
Therapy and counselling will be tailored to your individual needs and explore the past and present, if necessary. We are warm, empathic, understanding and work with you, collaboratively, to tailor therapy to you. Therapy and counselling can be long-term or short-term and depends on the individual client and your problems. We go at YOUR pace!
Our motto is 'your voice counts'. Our team believe that change and recovery are possible. We also believe that everyone with personal, emotional or mental health difficulties or other issues and problems is entitled to have a voice and express that voice.


Information About Services and Support
Scotland Online Therapy and Counselling provides offers both personal and professional services for a range of difficulties and personal. emotional and mental health problems including: depression and low mood; anxiety; eating disorders; body image issues; stress; panic; trauma; OCD; emotional distress; relationships, personal development and lots more.


We All Need Someone to Talk To Sometimes...Don't We?
Sometimes we all need someone to talk to - about the big and the smaller things in life. Perhaps you need a listening ear and someone to talk to about life's struggles and stresses. Or perhaps you experience low mood, depression, anxiety, problems with food/eating, OCD, body dysmorphic disorder, self-harm etc. and other mental health issues. Or perhaps you need some support with increasing confidence, self-esteem, relationship issues, assertiveness, stress and more.
Whatever the case may be, as qualified Integrative Cognitive Behavioural Psychotherapists, Person-Centred Counsellors, Stress Management Therapists and Solution-Focused Therapist, we can offer support you and provide a listening ear, particularly during the current COVID-19 crisis, which is proving distressful and anxiety-provoking for all. 

We can provide:

* Cognitive Behavioural Therapy (CBT)
* Integrative Psychotherapy/Integrative Cognitive Behavioural Therapy
* Person-Centred and General Counselling
* Stress Management Therapy and Coaching
* Solution-Focused Therapy
* Humanistic/Exixtential Approaches
* Guided Self-Help Sessions (CBT approach)
* Email Therapy and Therapy via Zoom

We can also provide consultations, assessments, clinical supervision, research services, therapy/consulting room hire, as well as access to support groups, training, workshops and professional networking groups.
If you feel that things are getting on top of you or that you are struggling to cope, then perhaps it's time to reach out for some help and support.


Information About Appointments
Sessions are confidential and we abide by the ethical guidelines of COSCA, BABCP, BPS, BACP, NMC, ASFH and NCH . Each practitoner carries their own professional indemnity insurance, holds a PVG/Disclosure Scotland Certificate, ICO Data Protection Certificate and engages in frequent CPD and clinical supervision. Our practitioners have also completed degrees in various other professional areas including psychology; mental health nursing; research;dietetics and further training in mindfulness; training and eduction; hypnotherapy and more.
The team regularly engage in other training to ensure we provide the most relevant and up-to-date therapy and counselling we can.
Appointments last 50 minutes and are private and confidential. Sessions are tailored to each individual client and we work at your pace and in accordance with your particular goals and needs.

More Information
Please get in touch with us if you need more information or have any questions.
Referrals and EAP
We also accept referrals from other organisations/third parties. Please note that we have agreed fees with Cigna that are different to the fees below. If insurance is covering your fees, please add £20 to each session to cover admin and report costs required of insurance companies.


Make the Change Today!
''Make the change today: there is no time like the present and there is never a 'right' time to make those changes, so make today the day and start working towards making life a little bit better!'
Training, qualifications & experience
Our Approach/Modality/Experience

I am (Alexandra) a qualified Integrative Cognitive Behavioural Psychotherapists and Psychology Practitioner with specialised clinical training in CBT.

Our other therapists are accredited and/or fully qualified and experienced CBT Therapists, Integrative Cognitive Behavioural Paychotherapists, Person-Centred Counsellors, Stress Management Therapists, Clinical Hypnotherapists and Solution-Focused Therapists. One of our team is also an accredited Trainer, Clincal Supervisor and Psychology Practitioner. Two members of our team are qualified mental health nurses and one is a state-registered dietician (get in touch if you require dietetic services). So as you can see, as well as beig therapists and counsellors, we bring a wealth of information and experience from our other professions too.
We have experience of working with many issues and concerns including: depression; low mood; anxiety; panic;health anxiety; social phobia; body image; stress; self-esteem; eating disorders; relationships; identity; grief and loss; carer support; assertiveness; confidence; goal-setting; emotional distress and much more.
We have experience of working with groups and individuals in therapy and counselling. We have experience of delivering therapeutic, support and psych-educational groups.


Specialisms
Alexandra specialises in eating disorders and have been involved in the field of eating disorders since 2001, initially in research psychology, mentoring and online support, then as Director and Chair of Trustees of a leading Scottish eating disorders charity.  I have provided services in the field of eating disorders since 2010 as psychotherapist, counsellor, mental health practitioner, support group facilitator, consultant, trainer and in other roles.
Consequently, Alexandra has another private practice specifically for eating disorders called Talking EDs (Glasgow & West Eating Disorders Support Service). See my eating disorders and eating and food problems website here: www.eatingdisorderscotland.co.uk There is even a free self-test there you can complete! Alana also specialises in eating disorders. While some of specialise, we also work with a wide range of clients experiencing varius concerns, problems and difficulties.

See the section below on what issues, concerns and difficulties we can work with. If something isn't listed, just get in touch with us and we can advise you if we can support you.
Member organisations
Registered / Accredited
Being registered/accredited with a professional body means an individual must have achieved a substantial level of training and experience approved by their member organisation.

College of Sexual and Relationship Therapists
COSCA is the professional body for counselling and psychotherapy in Scotland, and seeks to advance all forms of counselling and psychotherapy and the use of counselling skills by promoting best practice and through the delivery of a range of sustainable services. COSCA Counsellor Accreditation is a pathway to entry onto the UKRC.

It is a requirement of all individual and organisational members of COSCA to abide by its Statement of Ethics and Code of Practice and be accountable to the Complaints Procedure. Accredited by the Professional Standards Authority.
Accredited register membership

Accredited Register Scheme
The Accredited Register Scheme was set up in 2013 by the Department of Health (DoH) as a way to recognise organisations that hold voluntary registers which meet certain standards. These standards are set by the Professional Standards Authority (PSA).
This therapist has indicated that they belong to an Accredited Register.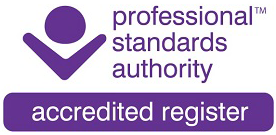 Areas of counselling I deal with
Other areas of counselling I deal with
Identity, Body Image, Existentialist Issues, Regulating Emotions, Feelings and emotions that are difficult to deal with, Eating Disorders.
Therapies offered
Behavioural therapy
Cognitive and behavioural therapies
Cognitive behavioural therapy (CBT)
Cognitive therapy
Compassion-Focused Therapy
Couples counselling
Dialectical Behavioural Therapy (DBT)
Existential therapy
Group therapy
Humanistic therapies
Integrative
Mindfulness
Other therapies
Person-centred therapy
Solution focused brief therapy
Fees
* Alexandra (accredited and Lead Psychotherapist)
  - Daytime appointments (Monday - Friday, before 5pm): £50/session
  - Evening (after 5pm) and Weekend (Saturdays): £60/session

* Alana (accredited Psychotherapist)
  - Evening (after 5pm): £65/session
* Stephen and Amanda (fully qualified and experienced therapists):
  -  Daytime appointments (Monday - Friday, before 5pm):£45/session
  -  Evening (after 5pm) and Weekend (Saturdays): £55/session
* Sue (newly qualified therapist of 1 year)
   - Daytime appointments (Monday - Friday, before 5pm):£40/session
   - Evening (after 5pm) and Weekend (Saturdays): £45/session

* All Email Therapy and Counselling (all therapists/all times)
    - £35 per email response

Clinical Supervision with Alexandra
    - I am offering a reduced rate for all new supervisees for their first year of working with me. This is £40/session for your first year and £50/session after your first year. All sessions are 50 minutes.
All sessions last 50 minutes. Double sessions are available. Please note that evening appointments (after 5pm) and weekend appointments (classed as out-of-hours) have an additional £10 added to the fees above.


Professional Services
These include:
Therapy/Consulting Room Hire (in Glasgow city centre)
EAP Services and Referrals
Consultations and Assessments
Membership of The CBT'ers Club and Glasgow and West Eating Disorders Networking Group
Clinical Supervision
Training and Workshops
Other
Please get in touch for details.
Further information
Ethos
We receive lots of enquiries from people asking if their problems, difficulties, thoughts and feelings warrant them accessing services or receiving help and support.
One of the best things about us is that we never discriminate on whether someone has e.g. 'full-blown' depression, anxiety, PTSD etc. has been formally 'diagnosed'; or meets certain 'criteria'.
We welcome anyone who feels their problems or difficulties are affecting their life. As far as we are concerned, if your problems and difficulties are affecting your life in some way – socially, emotionally, psychologically, physically, occupationally etc., then you deserve help and support with such.

If you need any further information or have any questions, no porblem at all. Feel free to get in touch and we will get back to you within 2 working days (although we generally reply within a few hours). We will ALWAYS REPLY to your email, so if you don't get a reply, please check your spam folder or sent us another email. We get back to ALL enquiries and emails.