Amanda Johns, Human Givens Practitioner, HG.Dip.P DSFH HPD
Maidenhead, Berkshire, SL6 6JJ
About me
Due to COVID-19 I am currently working online. Please see FAQ for further information about how an online session works or ring, text or email me for more information.
FEE REDUCTION
I have reduced my fees to try to make my services more accessible for the duration of the current situation. Please see FEES.
"I want to say a big thank you. My eating, sleep and general well being has improved so much." (Man 40+ with low mood and anxiety).
Life is for living, not just for breathing.
Do you need effective, practical help now
Your health, family, work, education and relationships
When life gets complicated and things need to change
This therapy endeavours to help you feel better as quickly as possible
People come to see me when they want help with difficulties such as depression, anxiety, fear, panic disorder, trauma (including birth trauma), distress, feeling sad, bullying, addiction, eating disorders and relationships.
As a human givens therapist (https://www.hgi.org.uk/) I discuss with you, in detail from the first session, how you want your life to be. Sometimes we can become so entrenched or confused that we can't see the wood for the trees.
There won't be endless discussions about your past, though I will help you remember and use your strengths and abilities that you may have lost touch with.
However, if we establish that old traumas or phobias are holding you back we can swiftly and comfortably neutralise them using the rewind technique.
I can help you learn new ways of thinking and perhaps teach you different tools to deal with situations. We can work together to come up with a plan of what changes you need to make at a pace that suits you. This is an important part of the work we do. There's no point in endless talking in the therapy room, things need to change out in the real world and this is why I will often ask you to do some agreed manageable task/s between sessions.
An additional useful tool is guided imagery (visualisation) to help you imagine and rehearse how you want things to be. By practicing a new or wished for behaviour in this way the brain has a go at the behaviour in advance. This has been shown to prime the brain for success, so making it easier for you when you do it for real.
This therapy can help you change how you think, feel and act so you can feel better and move forward in your life.
Have you:
Ignored the problem and suddenly it has reached a tipping point?
Got a sense that things aren't right and want to nip it in the bud?
Tried lots of other avenues and still find yourself stuck?
Talked and thought endlessly about it?
Become worn out, sad and fed up?
Tried a variety of medications?
Seen different professionals?
And yet haven't made the progress you want?
If any of this sounds like you, I'd like to help.
I have experience with helping people make real lasting changes in their life. I use outcome measures to demonstrate progress.
Get in touch by phone, text or email, now.
Take that first step to getting the real you back, today.
On outskirts of Maidenhead. Easily accessible from Berks & Bucks using A404, M4 and A4 for Marlow, High Wycombe, Beaconsfield, Windsor, Slough, Bracknell, Wokingham and Reading. Free parking at the GP surgery.
Training, qualifications & experience
I have been working as a therapist for some years. Originally I worked as a solution-focused hypnotherapist and then added to my experience by undertaking a significant period of further psychotherapy training with the Human Givens College. I gained a distinction in my psychotherapy diploma and then moved onto becoming a Registered Member of the Human Givens Institute, MHGI. http://www.hgi.org.uk
The Human Givens Post Graduate Diploma - a practical assessment of competence
The Human Givens Diploma - Distinction
Diploma Solution-Focused Hypnotherapy
Hypnotherapy Practitioner Diploma
I offer effective, practical therapy that can help you begin to feel better from the first session.
In combination with my life experience, which has included being a qualified staff nurse, a mother and experiencing some challenging personal circumstances it has made me passionate that, no matter how difficult life becomes, positive change is possible.
So whether you have such problems as stresses at home with family, illness, abuse, violence, anger, bereavement, divorce, separation, loneliness or betrayal or problems at work with bullying, lack of direction, wanting a change, too much change too fast, trouble with the boss or with colleagues, then get in touch and begin to take back control.
Testimonials - please see my website for additional testimonials
Anxiety
Amanda was immediately warm, welcoming and put me at ease, I was able to trust, be open whilst feel completely comfortable during our sessions, which was of the upmost importance to me. I cannot thank her enough for helping me progress and succeed. My life & well being has improved drastically from our sessions and I will be able to continue to implement what I have learnt moving forward as a confident individual. Thank you again!
Depression
I want to say a big thank you. My eating, sleep and general well being has improved so much.
Trauma
Following a horrific car crash, I was unable to even get back into a car. A friend told me about what Amanda does and highly recommended her as a therapist. Amanda had worked wonders for her following a break up. I read through her website and decided to call for advice. Amanda clearly explained what she offered and I booked in for a rewind session. I was apprehensive but Amanda fully explained everything and made me feel comfortable and at ease. The experience has changed my life and I am now able to drive again without having panic attacks or any anxiety. Amanda has really changed my life and I would highly recommend her and have already referred people for a variety of reasons. Amanda is a true professional and excels in her field.
Confidence
Amanda is easy to talk to , even on sensitive issues , I would recommend her to anyone and if I need therapy again I will definitely be confident to use her again.
Phobia
I visited Amanda to help me with a phobia of swans. I wasn't sure whether therapy would help but I'd had enough of being scared that I may come across a swan when I was out walking with my dog. Even after the sessions I wasn't sure it had worked, as you don't meet a swan every day! However some weeks later when out walking with the dog, we came across one and I found I no longer needed to run away, in fact I was fairly relaxed. I was amazed what a relief. My family and I are really pleased that I can go out and about quite freely again. I hadn't realised how many places I avoided because of my fear. I would recommend seeing Amanda if you need help with a phobia as it was very straight forward and she dealt with it in a way that allowed me to stay calm throughout.
Member organisations

Human Givens Institute
The Human Givens Institute (HGI) is both a membership organisation and a professional body representing the interests of those in the caring and teaching professions who have an interest in or utilise the human givens approach. Counselling Directory register Registered Members (MHGI) and Fellow Members (FHGI), who will have completed the Post Graduate Practitioner's Assessment (Part III) and who are fully qualified to practise as a human givens therapist or counsellor. Accredited by the Professional Standards Authority.
Accredited register membership

Accredited Register Scheme
The Accredited Register Scheme was set up in 2013 by the Department of Health (DoH) as a way to recognise organisations that hold voluntary registers which meet certain standards. These standards are set by the Professional Standards Authority (PSA).
This therapist has indicated that they belong to an Accredited Register.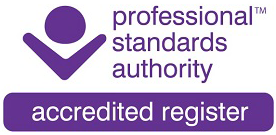 Areas of counselling I deal with
Therapies offered
Human Givens psychotherapy
Solution focused brief therapy
Fees
FEES REDUCED due to COVID-19
£60 - for a 75-minute session (previously £80 for 75 minutes)
(Option of £50 for a one hour session if your finances are tight or you would just prefer a shorter session - please just ask if you would like this option, but note that some sessions benefit from the longer time slot, for example the first session, or if particular techniques, such as 'rewind', are going to be used.)
My aim is to help you in as few sessions as possible but at a pace that works for you, some people need more time
Also at a pace that suits your budget. You decide the frequency, though weekly for a couple of weeks is useful at the start, and there is never any obligation to book another session.
I try to help you feel better after every session. This should not be a painful process and people often say that they feel a sense of relief and hope even after the first session. Things can change for the better however tough it has been for you now or in the past.
Further information
FAQ
Covid19
You may be feeling concerned about the Corona virus outbreak, particularly in light of the recent decision to move the UK from 'containment' to 'delay' and how this might affect our sessions together. I'd like to reassure you that my priority is and continues to be your safety and welfare, both physically and emotionally.
I am now unable to offer sessions at the GP practice or from my private address and so I am working online or if you don't have a stable internet connection possibly over the phone using FaceTime.
Also, as so many people are understandably anxious due to the current situation and have financial concerns, I have reduced the cost for the foreseeable future. Anyone on this rate will have it guaranteed for the duration of their current therapy.
What do online appointments involve?
In terms of the actual session content, they are identical to those conducted face-to-face with one exception – we are only able to make use of the rewind technique if we adhere to best practice guidelines which stipulate that there would need to be someone in an adjoining room in case of an adverse reaction and a loss of internet connection at the same time.
Logistically, you will need access to a computer or mobile telephone that is audio and video enabled. You will also need access to a stable internet connection. I make use of Zoom (https://zoom.us/) online conferencing software – if you are using a mobile phone you may need to install the Zoom app, which is free to download from the apple or google play stores. If using a computer, you can join the session via your browser. I will also recommend that you find a quiet location where you will not be disturbed for the duration of our session and we will agree in advance what to do should we lose connection for any reason. Evidence indicates that online sessions can be just as effective as face-to-face and perhaps even easier to attend!
What will happen when things go back to normal?
If, after a period of social isolation government guidelines indicate that normal social contact can be resumed, I will ask you what you would like to do. You can either return to face-to-face sessions or alternatively, if you decide that you would prefer to continue online, we can do that.
Whatever happens in the coming weeks and months, please be assured that my aim of working with you remains to achieve as much as possible in the shortest time necessary. If you have any questions or concerns about accessing my services now or in the future, please don't hesitate to contact me.
PTSD Resolution
I am registered to work with PTSD Resolution, a charity that helps war veterans recover from trauma. This charity uses only uses Human Givens therapists to help the veterans with trauma, as they have found that they techniques these therapists use are the most effective way of affecting a rapid improvement, in a comfortable way.
I'm interested in helping all sorts of clients, with lots of different difficulties that are causing them distress. I strive to stay up-to-date with the most effective psychological techniques available, so I can help each individual client, with their unique story, make progress fast.
If you want to start living life, rather than just reliving it, call, text or email me now.
For further information please visit my website: www.AmandaJohns.co.uk