Marie-Louise Rolfe
MBACP (Acred & Regd Psychotherapist, NLP & Wellbeing Coach)
About me
Your Wellbeing comes first.  As a fully qualified Counsellor, Psychotherapist & NLP & Wellness Coach, for over 2 decades, I work holistically, and am fully committed to helping you to resolve and work through the challenges you have right now and to find new ways to live your life to it's most fulfilling.  It can be challenging to ask for help but I find that once you make the step to reach out, the rest follows more easily. I believe that everyone has the answers within themselves to how their life is best lived and my focus is to support you with identifying your needs and put them into practice.  
As a Psychotherapist & Wellbeing Coach, I encourage you to identify and work with your individual gifts and talents, to aid you in finding your way forwards as well as providing you with the tools and guidance to adopt positive psychology, unpick unhelpful thinking patterns and self-limiting beliefs, enabling you to reduce stress and anxiety, and significantly improve your mental health.  The emphasis is on personal responsibility, so that you are empowered in how you live your life.
Some Questions for you.
Would you like a held space where you can be yourself, talk about what is bothering you and find solutions which work well for you?
Are you interested in exploring your spirituality and meaning in life?
Do you feel as though you are stuck or that your thoughts are going round in circles?
Are you finding that you have some would like to learn new strategies, skills or ways of being but are unsure as to where to begin?
Would you like help with how you can overcome a challenging time in your life, or within your relationships?  
Do you feel at a loss as to what to do with your life and cannot seem to find your life purpose or calling?  
Would you like someone just to help you work through a complex situation at home or work?
Are you unsure of the next steps to take in life and need some outside support in working this through?
Particular areas I work frequently with:
Challenges to wellbeing, stress, including work related stress, childhood or adult bereavement, redundancy, new life purpose, health and fertility issues, (including childless/childfree issues & postnatal depression affecting both partners). relationship loss, low self-confidence and low self-image. Whether the cause is by major and traumatic life changes, such as divorce, loss of job or career, major life change or loss of any kind, including close relationship (couples, family, children) or by issues that we come across in our daily lives such as not coping with life in the way we would like to. I believe in helping you find your own answers and holding space, using challenge and empathic support as and when needed.
The first session is about identifying what is needed and how we can best work together and we often identify key areas quite quickly. I usually recommend 6 - 8 sessions with a review at the end of the 6/8th session but sometimes more or less is needed. Often, much is resolved in the first 2 sessions.
The Difference between Counselling & Psychotherapy & Coaching.
Counselling and Psychotherapy concentrates on the person's past and deals with healing emotional pain. It is therefore geared towards understanding and resolving the past. Thereby, helping someone move forward and be able to reach their individual potential in life. Coaching helps someone resolve what is happening to them now, in the present and the future.
I do still have a small number of openings for Counselling & Psychotherapy, although my main body of work is now in NLP and Wellbeing Coaching.  Sometimes, a client may go from needing some Counselling or Psychotherapy to Coaching, once needs change.  This is possible and can be discussed before we enter into a Therapeutic Relationship.
Online Working
With online work, I invite you to place a web-camera at eye level and switching off their self-view to help boost connection and focus. We have the opportunity of having good eye to eye contact this way too.
Having to drive long distances and take significant time out of a busy schedule to seek in-person therapy or coaching can be a burden for people in need of help. If you have reliable internet access, online working gives you relatively quick and easy access to treatment that might not have been readily available to you otherwise.
When performing online coaching or therapy, you leave aside expenses like petrol, underground money, bus, or taxi. Since you can have coaching or therapy from anywhere, you don't need to move around to get to a clinic in time.
If you like to travel or need to travel a lot because of work, online therapy is a great option! You do not need to be in a single city to carry out the sessions. Instead, you can adapt your travel times to do your therapy without having to reschedule the session or cancel it because of your trip. It's a great option, especially if you can't stay in one place for too long and always switching therapists is not an option.
Another thing that must be remembered is that nobody will need to know that you are undergoing psychological therapy or coaching because, with online care, you can carry out the sessions from any location of your choosing without anyone knowing your business.
My online and phone clinic is held in St Austell in a quiet, comfortable and peaceful space. This is where I hold my sessions for one to one Counselling, Psychotherapy, Coaching, Training and Meditation. I hold local personal development & Sound Therapy workshops for the General public, online and locally. There are a number of platforms we may work through together:  Zoom, FaceTime, WhatsApp are some of these.  
My holistic approach to the therapeutic relationship is one of compassion, openness and simplicity.  The initial assessment involves listening and exploring the relationship between how you may be thinking, your patterns of behaviour, beliefs and your emotional responses to identify and discover which areas you may need help with. Often, much is revealed and resolved in one session.
As well as working with adults, I also mentor teens and young adults on a 1:1 or with their families, specifically during testing times of disconnect, which can occur suddenly; enabling them to connect with who they are and to build confidence and firm foundations, in order for them to be able to move forward with their lives.
I use all of the influences mentioned above and in the experience section on the next page, to help my clients to acquire techniques to apply in everyday life that helps them to support themselves. Through the study and research on how we regulate ourselves emotionally, I have designed, developed and delivered workshops to aid the acceptance of vulnerability which connecting with ourselves and others brings, enabling a better awareness and understanding and therefore better emotional regulation of the emotional states we all experience. This allows the most basic of emotional human needs to be met.  From here, healing and exploring new ways of living healthy & fulfilling lives we may journey on together.
Privacy and confidentiality can be actually more secure using online platforms especially by ensuring that clients are communicating from a safe space and that all security features of the web platform are adhered to such as using passwords, enabling a virtual waiting room facility and utilising the 'lock meeting' tool.
Neuroplasticity
I have worked with and researched neuroplasticity within complex trauma, relationship issues, vulnerability, anxiety and stress management. My aim is to provide a safe, held space and confidential environment, to promote professionalism, awareness and healthy contact and to help you to live a healthy and fulfilled life. I work with you holistically, to identify challenges in all aspects of your life, so you may make informed choices and positive changes.  
As a Mind Body researcher, I love to work with the neuroplasticity of the brain, knowing that we can always find ways to form and reorganise connections in your brain, through exercises, lifestyle, behaviour adjustments and re-evaluating core beliefs.
Imagine your brain as a colossal power grid. Billions of pathways light up every time you think, feel, or do something. Putting neuroplasticity into action means carving new pathways, while strengthening the best of the existing ones – and not reinforcing the pathways you'd rather avoid. This is captured in an aphorism: "Neurons that fire together, wire together; neurons that fire out of synch, fail to link." 
Neuroplasticity is perhaps the most ground-breaking and revolutionary finding in modern neuroscience and can be integrated into our daily lives.  It helps explain why and how people can make real changes in their lives and it makes sense of the many surprising findings coming to us from positive psychology researchers.  As such, it's virtually a required topic of understanding for every professional coach & Psychotherapist.
Here are 10 fascinating facts about how Coaching & Neuroplasticity works:
1. Your amazing brain is continually rewiring itself, not only changing from one day to the next but from one moment to the next. 
2. We may wonder why focus, concentration or meditation is so difficult? Our brains naturally dart around with thoughts, conjuring up around 100,000 thoughts a day; for most of us. As research suggests, we are at out optimum for learning something new in the first 10 minutes, which is why the practice of meditation, or learning a new skill takes time to master.
Slowing down our thoughts through meditation and gentle focus exercises therefore, is particularly beneficial to our overall wellbeing. Beginning with a few minutes and building up to 10 - 15 minutes can make a huge difference, often surprising people at how much they have learnt over a period of time.
3. In a way, we are reborn each time we go to sleep. The brain literally changes overnight.  Therefore we are presented with new possibilities and opportunities each day.
4. Wellbeing Coaching helps to change the brain positively. Working with the state of the brain, we can create change together, using specific exercises to embed these changes, so positive change becomes more permanent.  As a result, a happier, healthier person in almost every area of life may be experienced.
5. The mind-body connection is fundamental to change. This was discovered as far back as 300 years ago. Today, this connection is being embraced more than ever and new scientific discoveries are being made each day. A Dr William Lee recently discovered a new brain cell called the 'Rose Hip' which is connected to feelings of depression.  
6. An epiphany or 'Aha' moment is when sudden realisations are experienced by the person in coaching. Some reflection time is often needed to reinforce this new pattern.  This time can often be experienced as very spiritual. Often, when stuck in a loop, you may feel you are going round in circles.  Your brain is literally stuck in a neural loop and it is important to break the loop, in order to find a new experience and make this into a new habit.  Sometimes people fall 'off the wagon', or forget what their focus was but once the new habit informed, we may find our way back to this new habit to strengthen the connection.  This is where NLP comes in which is a wonderfully compatible partner to neuroplasticity. 
 
7. Due to our ways of surviving in the past, our brains are naturally on the look out for danger.  Stress can be a good thing, helping us to be motivated, connected and to learn new skills. However, when stress becomes overwhelming, often physical symptoms occur, for example palpitations, feelings of agitation, low patience threshold and so on.  These symptoms are a warning that something needs to be done to normalise the equilibrium in the brain body chemistry. Thankfully, the brain, always regenerating, is waiting to be nurtured and trained so that it can serve us more, to find more resourceful ways of living and feeling fulfilled.
8.  The gut and the heart are now often referred to as the 2nd and 3rd brains. Our thinking brain helps us to analyse, our hearts to sense and our guts to understand our place in the world, in a manner of speaking.  Working interchangeably with all 3 is often a delightful and awakening process.
9. Oxytocin, otherwise known as the "love hormone", works with the vagus nerve (otherwise known as the nerve which helps us feel strong emotions) to create a sense of bonding between parents and children, partners, and relationships of all kinds. Increasing oxytocin during coaching, via specific behaviours, and exercises creates trust and positive regard which are fundamental to successful outcomes.
10. There are schools of thought which state that the mind creates the brain. The mind is also thought to be in each cell in the body and through neuroplasticity exercises, we may work together to use your mind to change your brains, and other systems, such as the heart and gut, in ways that help you to integrate, grow, and transform your way of thinking and feeling about your life.
Here is a positive neuroplasticity exercise which helps to shift the brain into a more positive and resourceful mental state. This is especially powerful if you're not feeling as happy, or as optimistic as you might wish to:
 
Close your eyes and focus on your breath for a minute or two. Inhale for about 5 seconds and exhale for the 5 seconds. Try not to worry too much about this or time yourself. Allow it to happen with a relatively relaxed, unthinking mind.
Now, find something good, no matter how small, that happened today or yesterday. It could be observing the sunrise, hearing a bird sing or someone acknowledging something positive about you. Allow yourself to feel good about this thing or event. Allow the feeling to sink in, savouring it, in each breath.
Now, associate your five senses with this good thing. What does it look like? How does it feel? What is the sound like? Is there a certain taste and smell that comes up? These questions may not seem logical but try to play with them and go with it.
What does this event or thing means to you and why it matters to you? Do you associate it with any of your values in life or any of the things you like about yourself?
What did you notice about your part in this experience?  Were you in it or looking at it from the outside? 
Taking a moment now, to be grateful for and to acknowledge yourself and everyone connected to it. You can come back to this exercise whenever you feel like it.  Often if something uncomfortable comes up, your body is trying to tell you something.
Now imagine and enjoy this wonderfully unique experience of your positive event sinking into every cell in your body. You may even want to come back to it again several times and/or do this exercise with other experiences. Over time, they will help you experience greater joy, pleasure and gratitude.
I use neuroplasticity exercises, tailored to the individual where appropriate, unpicking the individual experience and helping to align with what feels true for you, in your life. The ability of the brain to reconfigure makes the acquirement of new information and new skills possible. This enables you to walk out with a whole set of new tools to use in your everyday life. I believe the intuitive, empathic relationship between therapist and client is the most healing part of working together, allowing the true self to emerge and so it is important for you to trust your instinct when choosing a therapist.
Finally, isn't it amazing how our bodies are speaking to us all of the time.  We only need to take some time to listen.  I wish you well on your journey and if you need any help, please feel free to be in touch.
I use neuroplasticity exercises, tailored to the individual where appropriate. The ability of the brain to reconfigure makes the acquirement of new information and new skills possible. This enables my clients to walk out with a whole set of new tools to use in their everyday lives. I believe the intuitive, empathic relationship between therapist and client is the most healing part of working together, allowing the true self to emerge and so it is important for the client to trust their instinct when choosing a therapist.
During COVID, in 2020, I found that the Mindfulness techniques I had been trained in for over 30 years helped me to recover from BPPV and COVID and to explore new ways to heal and lead fulfilling life, in these new times we live in.  After 2 significant bereavements, I wanted to share some of the meditations and music which helped me to reset my nervous system, through free videos on YouTube. The free videos are designed to relax the brain, help focus and sleep to come naturally.  Here is the link, should you wish to explore my channel: https://www.youtube.com/c/BeYourUniquePotential
As an Accredited and Registered Member of the BACP and the BACP Coaching Division, I abide by this Code OF Ethics and Continued Personal Development (CPD).
In my spare time I love sea swimming, singing in our Community Choir, spending Tim with family & walking our Black Labrador and PAT Dog Eve and composing Music and Meditations to help others.
If you think you would like to work with me or have any questions, please feel free to email me send a text or call for an informal chat on 07957 22 40 84. I look forward to hearing from you.
Training, qualifications & experience
I hold Masters and Honours degrees in Psychology, Diplomas in Gestalt Counselling & Psychotherapy,  Energy Alignment Methods, Practitioners Certificates in Humanistic Counselling, NLP Business Coaching, PSYCH-K, Psychometric Assessment, Healing, Sound Therapy, Meditation, Mindfulness Coaching, Emotional Intelligence and Work Style Behaviour assessing. 

For the past 20 years, I have spent and continue to train from 20 - 60 hours per year with continued professional development to maintain and broaden my skills. The journey began with Mindfulness Meditation (derived from Buddhism), Spiritual Awareness and Relaxation Techniques in 1995. Other areas of study include Visualisation, Hypnotherapy, EFT, CBT, Integrative Therapy, Gestalt Psychotherapy, Anxiety Management, PSYCH-K, Peter Levine Somatic Energy work, Sound Therapy, Meditation, NLP, CBT, Sand Play, Art Therapy, Psychodynamic short and long term therapy clinics, Tai Chi, Reflexology, Mirror Work and enhanced Gestalt Chair work.
I have developed an equine assisted learning model with a colleague at Chaos Farm, for Chaos Group, Veryan and used this model in some of my Equine Psychotherapy workshops and sessions there. Horses, as well as dogs, are two of the only animals who obviously mirror the behaviour of humans. Through working with horses, I held the space while the horses reflect back the behaviours of the client which, in turn, enables the individual to recognise their behaviour patterns. 
Before COVID, I provided Sound Baths, using a Symphonic & Wind Gong, Tibetan bowl and Koshi chimes as well as softly spoken meditation techniques for relaxation & resting the nervous system @ Lanivet Community Hall, Cornwall.
My experience ranges from short focussed sessions, working with EAP's (Employment Assisted Programmes), supporting staff through challenging times, including redundancy, bereavement, to anxiety related issues (generalised anxiety), family related issues, depression, the need for refocusing and help for life direction, career transitions, to working with mental illnesses such as acute/chronic manic depression, bipolar, schizophrenia and so on. I have worked extensively and creatively with people who have become ill physically as a manifestation of a mental breakdown. I have specialised in working with people who suffer from stress due to their working environment. There is much disengagement and stress with many people right now at work and this is an area that I have helped with continuously over the past 20 years in London and in Cornwall, both areas showing different types of stresses but fundamentally showing the same outcome. This can sometimes reveal itself in some invisible, such as feeling sad & irritated or something physical such as a sudden skin eruption or a more bodily feeling of feeling ill in some way. In these cases, I have often found that when there is no medical diagnosis, the emotional and wellbeing work with the physical pain watches it gradually go away as the emotional pain subsides.

My main models of training are in Psychology and Gestalt Therapy, I work with individuals or couples and families on a long or short term basis here and now approach, modelled on each individual's specific needs. I am also a qualified NLP Business practitioner and Life Transition Coach which I integrate into sessions or use in isolation, depending on what is required. I am also experienced in Occupational Therapy and Body Mind Therapy, inspired by Dr Peter Levine. as well as in Neuroplasticity, Shiatsu and Reflexology which I find useful to draw upon during sessions. Having experienced and studied different religions, spirituality and neuroplasticity my entire life, I honour and see the value of both the scientific and the spiritual relationship that we have to life.   One thing is for sure, the experience of both is different for everybody.  
Cancellation Policy
A 100% fee is charged for appointments cancelled, or missed with less than 48 hours notice.
Member organisations
Registered / Accredited
Being registered/accredited with a professional body means an individual must have achieved a substantial level of training and experience approved by their member organisation.

British Association for Counselling & Psychotherapy
BACP is one of the UK's largest professional bodies for counselling and psychotherapy. Therapists registered with the Association fall into a number of different membership categories such as Individual Member, Registered Member MBACP and Registered Member MBACP (Accred), each standing for different levels of training and experience. MBACP (Accred) and MBACP (Snr Accred) members have achieved a substantial level of training and experience approved by the Association.

Registered members can be found on the BACP Register, which was the first register to achieve Accredited Voluntary Register status issued by the Professional Standards Authority. Individual Members will have completed an appropriate counselling and/or psychotherapy course and started to practise, but will not appear on the BACP Register until they've progressed to Registered Member MBACP status.

All members are bound by a Code of Ethics & Practice and a Complaints Procedure. Accredited by the Professional Standards Authority.
Accredited register membership

Accredited Register Scheme
The Accredited Register Scheme was set up in 2013 by the Department of Health (DoH) as a way to recognise organisations that hold voluntary registers which meet certain standards. These standards are set by the Professional Standards Authority (PSA).
This therapist has indicated that they belong to an Accredited Register.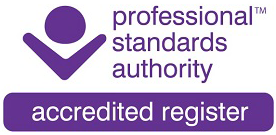 Areas of counselling I deal with
Other areas of counselling I deal with
Many people who come to me have physical issues such as ME, Migraine and Tinnitus and I often find that these ease with time with the self awareness that comes with changing our thought patterns, listening to what the body is communicating to us and therefore releasing blockages which have built up in the body. Old, stuck beliefs contribute to the stressors which trigger physical manifestations in the body.  There is much scientific research now which reflects this somatic work.

The way we think creates our experiences and by making changes to our thinking patterns, we can change our experiences." Our unchecked emotions are often responsible for dis-ease that we create in our bodies: Emotions such as Criticism, Anger, Guilt and Resentment. I can help you manage these emotions and create wonderful positive change in your life.

I am also an experienced mentor and Life Transition coach who uses an integration of PSYCH-K, Meditation, Relaxation techniques, Sound Healing, Psychotherapy, Psychometrics and Emotional Intelligence assessments in order to aid the individual to move forward with their lives at work or at home.

A popular coaching session which involves a psychometric assessment, report and 1 hour phone consultation has helped many people comes to terms with their work whether it be a career transition, or developing themselves in their current role.

What makes this coaching unique is the holistic approach towards the combination of emotional and cognitive challenges which are unique to the individual.
Support and guidance is given and the aim is to promote awareness, resilience and productivity.
Emphasis is placed on finding out what exactly the client is trying to achieve and helping the client to engage in that process.

Workshops in Meditation, Art Therapy and Visualization are now available. Please email me here for more details. Current workshop details are available on the events page of the Counselling Directory.
Fees
£60.00 per session
Free initial telephone or online session
Concessions offered for
EAP/Health Insurance Providers
BUPA
AXA PPP
HealthAssured
Aviva
Saga
Vitality
WPA
Additional information
Sessions for Counselling, Psychotherapy, NLP & Wellbeing Coaching
These sessions are 1 hour long, (including the initial session, although I am happy to have an initial chat with you). and are £60 per session for individual therapy and £70 per session for couples therapy and family therapy.  I offer concessions to students and Health Care workers and can be referred through Pru Health, Axa, BUPA, Health Assured and Cigna amongst other private and in-house health agencies and EAP's. The first session indicates how many sessions will be required as well as being an opportunity to identify what you would like to achieve from our sessions together and then we propose a framework to make that happen.
Fees
From £20.00 to £85.00
EAP/Health Insurance Providers
HealthAssured, Pru Health, BUPA, AXA + 10 others
Additional information
I provide sessions via Telephone, Online, or Text, to Individuals and Trainee Counsellors. 
Fees vary and are subject to which service or services you require 
I now work from Cornwall and offer Zoom, FaceTime sessions to my London and International clients.
Availability
M

onday

T

uesday

W

ednesday

T

hursday

F

riday

S

aturday

S

unday

Morning
Afternoon
Evening
Night
Monday - Friday 9am - 6pm.
I developed a Meditation & Music YouTube Channel, during the COVID period, which may help you : https://www.youtube.com/channel/UCJGmJFCnFYoadgujCSRuVTA
Further information
Most of my referrals come from GPs, Clinics, Devon and Cornwall Police, the NHS and from people referring themselves. Feel free to view my website for more information on NLP Coaching in Cornwall and London as well as internationally: https://beyouruniquepotential.com
I am a member of the BACP Counselling & Psychotherapy Division and BACP Coaching Division as well as the ICO and commit to their ethical standards. 
For more information or to make an enquiry, please contact me by email or by phone:

Email / 07957 22 40 84.
Published articles