What links Stephen Fry and a humble cup of tea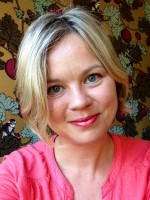 You may be aware that Stephen Fry and Ruby Wax are among many celebrities who have been open about their mental health issues. Like the rest of us, they struggle at times, at the end of the day they are only human.

Stephen Fry lives with bipolar disorder and Ruby Wax has struggled with anxiety and depression in the past. Ruby has now trained as a therapist and both of them lend their support to a national campaign Time to Talk, which aims to reduce mental health stigma and increase support for all who experience psychological problems.

Mental health issues sound scary and often bring to mind outdated stereotypes. The reality of it is that ordinary people like me and you can get effected by negative life events at times. Recent surveys estimate that 1 in 4 of us will be effected by anxiety or depression in a year and 75% of us will experience them in our lifetime. And people can recover really well.

So let's look at our idea of what a mental health issue might look like.
Well, it can look very ordinary. It could be a friend whose husband died some years ago, who continues to find life without him a struggle and can't bear the thought of doing anything with a wardrobe full of his clothes. It may be a kind neighbour who shies away from any social invitation. Perhaps it is a cousin who seems really preoccupied with her health and who always seems to be researching a condition she feels she may have. It could be a colleague at work who is going through a divorce and whose confidence, as well as the quality of work, have taken a hit. It may be a friend who "disappeared" from the radar. Or it may be somebody who insists that taking the stairs to the 5th floor really helps with his exercise regime (nothing to do with disliking lifts...)

Now, if we described these people with diagnostic labels, it may be that we would use such terms as: complex grief, depression, social anxiety, phobia or health anxiety. This is when it gets scary - when we see the label before we see the person. However, we can all make a difference by remembering that mental health issues happen to ordinary people. People we know and love. People we can make a real difference to.

You do not have to be an expert in mental health to make a difference to somebody's life and the Time to Talk adverts you might have seen on television drive this message strongly. What it takes is a willingness to make contact and listen without judgement, willingness to offer companionship, sometimes practical help, sometimes a cup of tea (which in Britain we know remedies most ills!). You can call someone you know or text them. You can sent a postcard. You can drop by. You can suggest a walk. And you do not need to talk about problems all the time - in fact everyday conversations work really well to reconnect us to normality when we struggle. 

Sometimes, especially when we care about people, we desperately want to help and might be tempted to come up with solutions. Tempting as it may be, try and resist. Offer hope and space to explore options but avoid offering your solutions. Sometimes when we "just" listen and empathise we are actually saying a great deal. What we say when we stay silent is: "I am here for you. I accept you as you are right now. I am not in it just for the good times. I care. I have faith that with support you will get better. I know it is hard but hang on in there".

Most of us, given enough time and support, recover well. You probably know this already because chances are you would have been there yourself at some point of your life. If you would like to know more about how you can support a loved one through a tough time, Mental Health Foundation has a wealth of helpful resources. You can also get some helpful tips through the national campaign Time to Talk. 

If a problem persists despite support, professional help would be the next step to consider. There are many options of psychological help available, both through the NHS and privately. There is no shame in recognising the importance of psychological well-being. We need to give it equal importance to physical health in our list of priorities.