Mental health
Mental health New Year's resolutions
We must admit, we kind of love new years. They give us an opportunity to reflect on how far we've come and set intentions for the upcoming year.
Instead of making big, sweeping declarations about how much we're going to change this year, we decided to look at resolutions that will really support our mental health. It's about time we prioritised our mental health and we would love it if you joined us.
See what the team here at Counselling Directory will be working on this year:
Matt, Business Advisor
"I want to do more training on mental health in the new year. So much so that I am on the list for MHFA Instructor training in the new year. I really feel that there is more I can do to help others who are struggling with their own mental health challenges."
Melissa, Digital Marketing and Brand Ambassador
"So number one is definitely to stop smoking to ease my anxiety/depression as it's probably making it worse!
I recently had cognitive behavioural therapy (CBT) and found this really helpful and learnt so many new strategies which I will be taking into the new year. I've learnt how to put 'me' first and do things that are good for me and listen to the signals my body is telling me.
Self-care will definitely be a priority for me in the new year and looking after myself better. Not overdoing things and talking more about my feelings too is another New Year's resolution – not bottling things up and being more open.
I'm also planning to do something to help others who struggle with their mental health and depersonalisation in particular as I struggled with this over the summer months."
Sian, Membership Services Executive
"Recently, I have been experiencing anxiety symptoms and feeling quite overwhelmed at times. As a person who struggles to relax, I am going to try my best to practise relaxation techniques and take time out to reflect. This has involved frequent mindfulness techniques to focus on my breathing and surroundings, whilst going out walking more and doing a bit of colouring in with my spare time rather than binge-watching tele.
As part of my self-care, I have also learnt to say no to making plans if I'm not feeling up to it; whereas before, I would say yes to keep everyone happy."
Ellen, Marketing Communications Executive
"I'm very nearly there, but I'd like to try and completely get rid of any feelings of guilt for not going to the gym, or eating an extra couple of biscuits after dinner.
I'm pretty good at looking after myself and knowing what my body needs – whether it's to get moving or a have a couple of days' rest – but I still have the smallest niggle of guilt at the back of my mind whenever I chose to do something that isn't 'the healthy choice'.
I want to be healthy and look after my body, but life's way too short to feel bad for choosing my pyjamas over my trainers."
Kat, Marketing Communications Team Leader
"Last year I started struggling with anxiety and have learnt to manage it with the help of CBT. For the new year, I want to continue using the techniques I learnt here as well as other self-care practices to keep on top of my mental health. This will include journaling, doing yoga, having enough down-time and meditation.
I also want to continue to be a mental health advocate through my personal blog and social media. Speaking up is the best way to help eradicate stigma, we're all in this together!"
Tweet us and let us know what your mental health resolutions are! 
Share this article with a friend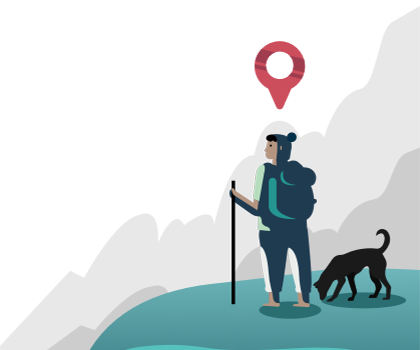 Find a therapist dealing with Mental health