Mental health
Charity walk focuses on suicide prevention in the South West
It is staring us in the face. More suicides take place in the South West, than anywhere else in England. This, despite the number of suicides for the rest of England dropping.
A joint report by the Office of National Statistics and the Department of Health has revealed that the region surpassed longtime suicide hotspots in North West England and London, both of which have had the highest rate of suicide for the past decade.
In an effort to increase mental health awareness and suicide prevention where it is needed, Clasp Charity held a 10K charity walk in Weston-super-Mare last weekend, which was supported by charities and individuals active in the mental health community.
"Walking Out Of Darkness" saw participants from across Britain pound 10K of Weston-super-Mare pavement in a bid to let people know that they are not alone, as well as to help end the stigma surrounding mental health.
Kenny Johnston, CLASP chief executive and founder of Walking Out of Darkness, who himself suffers from mental illness and has attempted suicide, said the event itself is about people coming together to raise mental health awareness and suicide prevention.
Speaking at the event, Mr Johnston said: "The walk has no barriers, it allows people to express their experiences and feelings openly with charities and services available to support anybody affected.
"Mental illness and suicide have no barriers either and my hope is for people to engage with the event to expand across the country raising more mental health awareness and saving lives".
"The most beautiful and empowering aspect of Walking Out Of Darkness is the unity, respect and understanding shared by participants, along with the attending charities and services, which is then shared with passersby during the walk."
Among the attendees were Somerset-based charity In Charley's Memory, which was founded in memory of Charley Marks, who took his own life in September 2014. Charley's friends and family began raising money and supporting young people.
Mental health advocates Jake Tyler and Chevy Rough, who were both featured on the BBC's Mind Over Marathon, were also in attendance. Mr Tyler, who is now walking the UK to increase mental health awareness, kicked off the walk, which he described as a "safe place for people who 'get it'".
"A lot of people aren't ready to talk about their mental health and their depression. It took me a really, really long time to open up about mine. If I would have known about communities like this and I'd have gotten involved in it, it would have really helped me. So it's really nice to see young people here as well. There are people here with purpose – people walking in memory of a loved one. Everyone gets it here and it's an honour to be here", he said at the event.
Mr Tyler continued that walking has proved a tool in his own battle with depression. So much so that it prompted him to walk around the whole of Britain to try and promote exercise as a way of managing mental health.
"I've walked from Brighton to Glasgow and I've come down from Glasgow for this walk. Walking the UK has been a pilgrimage", he said, "but I also wanted to show people how effective it can be in managing mental health. It's not a cure, I think a really important thing with depression is, if you live with it, like I do, it's not about ever finding a cure because that's reaching a goal that is kind of unattainable for some people. It's about managing it, it's about accepting it, and it's about learning to live with it."
You can support Jake Tyler in his walk around the UK by donating to his Kickstarter or follow Clasp Charity for information about next year's events.
If you're finding it difficult to cope, it's OK to need a helping hand. While often we can get the support we need by talking to friends and family, in some cases, it can be beneficial to speak to a professional – like a counsellor.
To find a counsellor near you, or to learn more about mental health and how talking therapies can help, visit the Counselling Directory website.
Photos courtesy Daniel Gardiner for CLASP Charity.
Share this article with a friend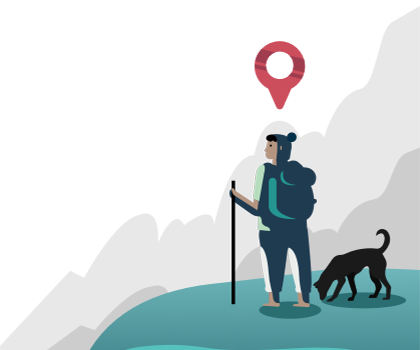 Find a therapist dealing with Mental health